Dir: Wong Kar-wai. Hong Kong. 1994/2008. 93mins.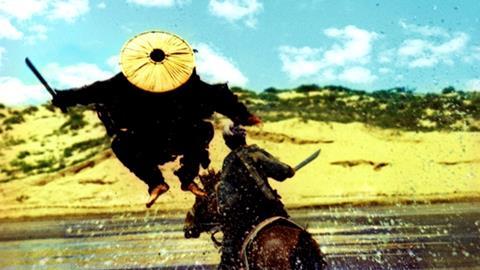 The first surprise about Wong Kar-wai's revamped, re-edited and rescored version of his 1994 cult wuxia classic Ashes Of Time is just how little has been changed. The second is how much these minor tweaks still have helped clarify the Hong Kong auteur's interpretation of Louis Cha's historical fantasy novel The Eagle-Shooting Hero, confirming that his most poetic, experimental film belongs not in the curiosity cabinet but on the big screen.
Wong Kar-wai is still a potent arthouse name. The difference between this and most previous other re-edits is that large swathes of its potential audience will not have seen the original - which was patchily distributed at the time, and has since been available only on muddy Hong Kong laserdisc or incomplete French DVD. So distributors' main targets will be receptive new viewers, rather than the small brigade of hardcore Wong fans.
In the end it's still Chris Doyle's striking original vision that dominates. Despite an end credit for extra cinematography from Kwan Pun-leung, new material is minimal, stretching, at a guess, to less than a minute in all (most of the extra five-and-a-half minutes' running time is taken up by the longer end credits). A few fight scenes have impressively been re-edited and one spectacular water sequence featuring Brigitte Lin looks new.
The seasonal chapter headings of the film's five interlinked stories - spring, summer, autumn, winter and spring - have been reinstated. Colour has also been digitally remastered. But the main novelty is aural, not visual. Chinese musical prodigy Wu Tong has completely rearranged the original score, giving it a lush sweep that enhances the wistful yearning of these stories of memory and desire. World-famous cellist Yo-Yo Ma also features as a soloist.
In the end we are left with the feeling that Wong has simply restored, rather than revisited, one of the most remarkable works of his career. Ashes Of Time uses its wuxia source material as a peg on which to hang a ravishing study in displaced, frustrated desire and loneliness, with a star-studded cast at their prime (Maggie Cheung has never looked more beautiful, or Tony Leung Ka-fai more tragically romantic). The drifters that pass through the film's remote desert locus are bound together by the film's narrator, the late Leslie Cheung, playing a world-weary agent who, for a fee, puts clients in touch with swordsmen-for-hire. Five years after Cheung's death, Ashes Of Time Redux reminds us of what a fine actor he was.
Production companies/backers
Jet Tone Productions
Block 2 Pictures
Scholar Film Co Ltd
Worldwide distribution
Fortissimo Films
(31) 20 627 3215
Producers
Wong Kar-wai
Jeff Lau
Jacky Pang Yee-wah
Screenplay
Wong Kar-wai
based on the story by Louis Cha
Cinematography
Christopher Doyle
Production design
William Chang Suk-ping
Editing
Patrick Tam
William Chang Suk-ping
Music
Frankie Chan
Roel A Garcia
Additional score and rearrangement
Wu Tong
Main cast
Brigitte Lin
Tony Leung Chiu-wai
Leslie Cheung
Carina Lau
Tony Leung Ka-fai
Maggie Cheung
Charlie Young
Jacky Cheung