CHINA BOX OFFICE: Bona Film Group's White Haired Witch Of Lunar Kingdom topped the Chinese box office for a second week (August 4-10), grossing $19.71m from 3.2 million admissions.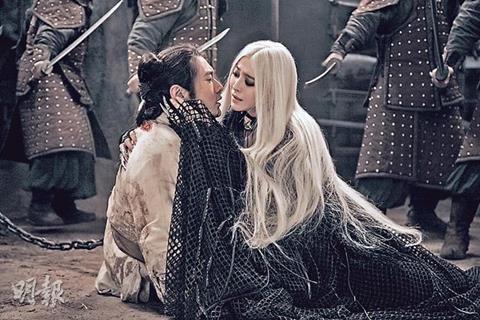 Directed by Hong Kong's Jacob Cheung, White Haired Witch Of Lunar Kingdom is based on Liang Yusheng's classic fantasy novel and stars Fan Bingbing as the titular witch, along with Huang Xiaoming and Vincent Zhao. After 11 days, the film has grossed a cumulative $55.7m.
Luc Besson-produced Brick Mansions took second position in the chart, with a weekly gross of $13.52m, climbing from fifth position on its opening weekend (August 1-3). The remake of French production District B13, featuring one of the last performances by Paul Walker, has grossed $21.26m after 10 days on release.
Now that the Transformers 4 behemoth has vacated the China market with a final tally of $317m, local films have room to breathe and account for the rest of the top ten.
The Continent, directed by rally car driver and blogger Han Han, came in third with $12.65m for a cume of $95.36m after 18 days. Also released by Bona, the film stars Chen Bolin and Feng Shaofeng and as two friends on a road trip across China.
Fourth position was taken by Barbara Wong's Girls, which grossed $11.1m for a cume of $28.2m. The film highlights the growing cooperation between Chinese-speaking markets – while Wong is from Hong Kong, the film is backed by mainland Chinese finance and set in Taipei.
Local 3D animation The Legend Of Qin came in fifth, grossing $5.92m over its opening weekend.
Live action wuxia romance Brotherhood Of Blades opened with $5.76m. Starring Chang Chen and Liu Shishi, Brotherhood Of Blades has been picked up for international sales by IM Global. The film is directed by Lu Yang (The Spectacular Theatre) and produced by Terence Chang and Wang Donghui.
Animations claimed the next two positions in the chart – Yugo & Lala 2 grossed $5.12m on its opening weekend, while Mili Pictures' Dragon Nest: Warrior's Dawn took $3.12m in its second week for a cume of $8.81m.
Rounding out the chart were horror films The House That Never Dies, which took a further $2.21m for a cume of $65.22m, and Die Xian Gui Tan, which opened with $1.38m.