Employees at a car plant are betrayed by their management: Stéphane Brizé's film starrting Vincent Lindon follows what happens next.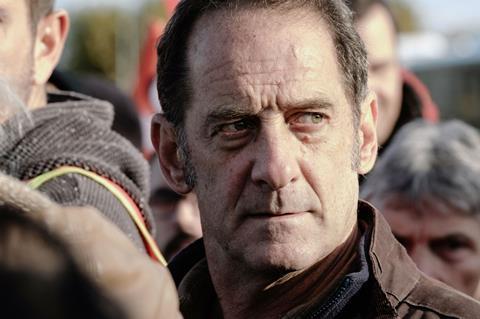 Dir. Stéphane Brizé. France. 2018. 113min
A story worth telling, well told, the aptly named At War (En Guerre) takes a wrenchingly intimate look at hundreds of French factory workers fighting to keep their jobs, with solidarity and conviction as their main weapons against cavalier corporate overlords. Ripped from the headlines, keenly researched and carefully crafted, this fictional tale has near-universal resonance although some viewers may find it forbiddingly French in that talk, talk and more talk is as plentiful as are distinctive characters and punchy imagery.
Another role ideally suited to Vincent Lindon's knack for portraying decent guys trying to do their best under daunting circumstances.
In his eighth feature since 1999, skilled storyteller Stéphane Brizé lets arguments and conversations, street demonstrations and negotiations go on beyond the breaking point for imatient viewers. But this deliberate prolonged immersion is a tactic that builds an unfailing tone of veracity, keeping us on the side of the striking workers while showing that their slickly two-faced adversaries are, as the saying goes, "just doing their jobs."
From one day to the next, the 1,100 employees of Perrin Industries, an automotive parts factory in the French city of Agen, learn that their parent company in Germany has decided to close the plant and fire all the workers. Counting families, that will throw 4,000 people on very hard times since there's no other work in the region. The workers are doubly stunned since two years previously they all accepted a substantial pay cut and gave up bonuses in exchange for the promise of at least five more years of stability. What's more, the factory is turning a profit – it's just that shareholders expect an even greater return.
It's a basic, noble stand-off: The workers upheld their end of the bargain but management did not. Now what?
Union rep and spokesman Laurent Amédéo (Vincent Lindon) ably and energetically leads the at-first united employees in their quest for justice. As the workers see it, there's no difference between signing a deal with management and not signing a deal with management if the employers don't honour their word. News reports in the style of prominent French TV channels condense the various advances and set-backs, while the film itself fills in the much richer and more frustrating reality that doesn't lend itself to sound-bites and brief commentary.
Getting the run-around and determined to make themselves heard, the workers file formal charges in court, meet with a relatively constructive government official an eight-hour drive away in Paris, storm the headquarters of the organisation that represents employers in France, but can't make headway on getting a meeting with the head of the German parent company, a certain Mr. Hauser.
Perrin reps say they'll be pleased to negotiate – but only on condition that employees call off their strike and return to the jobs that will soon be eliminated entirely.
The film shows how hard it is to maintain tight ranks even when you have the moral high ground. The cumulative effect packs a wallop. Handheld camerawork keeps us in close contact with the well-cast protagonists, most of whom are non-professionals. Although every word is scripted and every camera move pre-planned, the impression is of authentic situations springing spontaneously to life.
Via their clothing and hair-dos, weather-beaten faces and body language, the workers convey their underdog social status faced with the good grooming and cynical corporatespeak of their foes infinitely higher on the food chain. In the most violent sequences, tension-generating music by Bertrand Blessing surges forth, taking the place of raised voices and shouts, either because it's literally all been said before or the workers' voices are perhaps destined to go unheard.
In his fourth screen collaboration with Brizé after their work together on The Measure Of Man – which, in Cannes, earned Vincent Lindon his second-ever acting award in a career dating back over 30 years – this is another role ideally suited to Lindon's knack for portraying decent guys trying to do their best under daunting circumstances.
Production companies: Nord-Ouest Films, France 3 Cinema
International sales : MK2 Films
Producers: Christophe Rossignon, Philip Boëffard
Screenplay: Stéphane Brizé, Olivier Gorce (in collaboration with Xavier Mathieu, Ralph Blindauer, Olivier Lemaire
Production design: Valerie Saradjian
Editing: Anne Klotz
Cinematography: Eric Dumont
Music: Bertrand Blessing
Main cast: Vincent Lindon, Melanie Rover, Jacques Borderie, Jean Grosset, Guillaume Draux, Martin Hauser