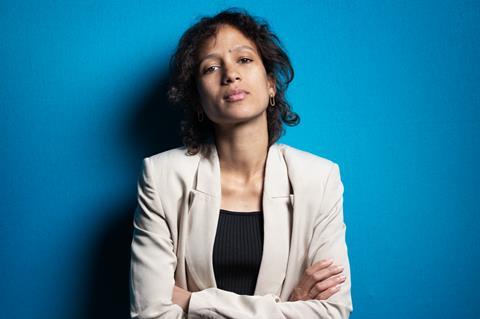 It has been an eventful six months for French-Senegalese director Mati Diop, topped by the Cannes Grand Prix win for her debut feature Atlantics and Netflix's swift acquisition of global rights to the film.
By the time the film screened at the Marrakech International Film Festival in early December, the Dakar-set drama exploring the tragic legacy of clandestine Senegalese immigration through the prism of a contemporary ghost story, has just been launched on Netflix after theatrical releases in France and Senegal.
Diop says she was initially reticent about the film being sold to the global streamer by Paris-based mk2 film.
"When you're a director there are lots of reasons to have mixed feelings about Netflix," she says. "On one side, we want our films to be seen by as many people as possible. On the other, I sometimes worry it's all moving too fast and that maybe I've betrayed cinema but on the whole, it has been positive."
The deal excluded France where Ad Vitam released it on October 2. It has drawn 66,000 spectators to date, for a gross of roughly $490,000.
"It's meant, I've been able to experience collaborating both with a distributor in France and work with Netflix," Diop says. I've had the best of both worlds."
She is is particularly pleased about the way in which the Netflix release has connected the film with a wide global audience.
"I got a lot of enthusiastic messages on the social networks, especially from the Senegalese diaspora who were so happy to see a film in Wolof [the predominant native language of Senegal] which resembled them, on the platform. It created a sort of event. I didn't get as many messages when the film was released in cinema theatres in Paris. Also, a lot of the messages were from people who were quite young, who go to the cinema less."
The film is now Senegal's submission to the best international film category of the 2020 Academy Awards for which the10-film long list will be announced on December 16.
Dakar inspiration
Diop first travelled to her father's native city of Dakar to reconnect with her African roots after a childhood and adolescence spent mainly in Paris. She was moving against the tide. As she tried to engage with the West African country, Senegalese youngsters were fleeing the recession-hit territory in droves, desperate to get Europe, in the hope of a better life.
Instead of the traditional Mediterranean route via North Africa, many were opting to set off directly from the Senegalese coast for Spain in small boats. Hundreds were dying every year, as they attempted the perilous 2,000km trip across the Atlantic Ocean.
Diop was profoundly affected by the tragedy: "As I was trying to engage with the country through my cinema, a certain youth was fleeing. This collision had an impact on my cinematic choices. I felt this urgency and a need to react as a filmmaker to what was happening."
Her immediate reaction was the 2009 short film Atlantiques, in which a young man recounts his journey across the ocean, which won best short film at the Rotterdam International Film Festival.
It would take her another decade to deliver Atlantics. A catalyst was the popular protests of 2012, sometimes referred to as the Dakar Spring, which helped rid Senegal of the notoriously corrupt president Abdoualye Wade.
"At the time, I was questioning whether a feature on the subject still made sense. I felt like everything had been said and that the Senegalese were sick of talking about it but then the Dakar Spring 'contaminated me', this vital insurrectional force inspired me to get to work and set my cinema at the same frequency as the uprising."
Another turning point, was connecting with writer Demangel, whose credits include Albert Dupontel's comedy-drama 9-Month Strength and political intrigue series Baron Noir. He played a key role in helping Diop boil down 10 years-worth of material "I'd accumulated a whole world in those years in Dakar. I needed someone to help me structure the material," she said
When they first connected, Diop was in the middle of a nine-month writing residency at the Radcliffe Institute for Advanced Study at Harvard University in the US. She describes the experience as at once "agonising" and "key".
"I was able to give myself the luxury of processing the material I had accumulated in an abstract, subconscious way, going off in different directions. I was dreaming the material and waking up with strong visions… I needed this process. A screenplay can take longer than you think to write and you need to give yourself time."
Atlantics has now has been feted more than a dozen times since its Cannes victory, most recently with the New York Film Critics Circle prize for best first film.
For Diop, the biggest reward was the approbation of the audiences back in Senegal when it was released there in August.
"It was important for me that the Senegalese recognised themselves in the film, perhaps more important than the recognition in Cannes," she says. "The audiences there aren't used to seeing themselves. The film had a different significance for an African audience because for once it's talking about them."