Dir: Jerusha Hess. US-UK. 2012. 97mins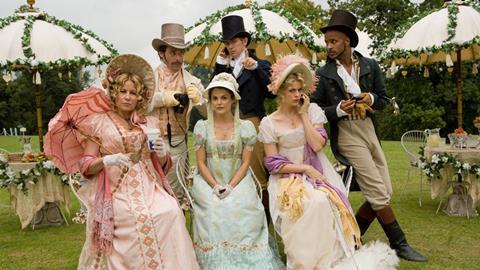 A costumed pageant and the wild spoof of a costumed pageant, Austenland is a clever romp for Jane Austen fans and for those who see Jane Austen mania as an infinitely expanding punchline. Jerusha Hess's adaptation of Shannon Hale's 2008 novel about an Austen maven visiting the promised land – a Jane Austen theme manor – will have a global reach, just as Austen does.
Russell, earnest in Austen awe and game for the send-up, brings an agile complexity to her man-seeking character without suppressing the laughs.
It won't hurt that Austen's admirers read her books again and again. The existing Austen audience is likely to see this extravagantly decorated spectacle more than once. Family interest and Bret McKenzie (The Hobbit) in the cast should help take Austenland out of the chick-flick ghetto. This isn't Shakespeare In Love, but it will bring that audience to cinemas. Other formats will be strong.
Austenland is a satire of a pilgrimage. Jane Hayes (Keri Russell) a die-hard Austen addict of 31 who lives and sleeps in Austen memorabilia, travels to England to an estate ruled by Mrs. Wattlesbrook (Jane Seymour) where everything is Austen, including the actors who court Austen-crazed visitors with decorous dalliance. Ripe for romance (and her own Mr. Darcy), Jane's Austen collection lacks one thing, a man.
Innocents abroad are easy laughable prey for the Austenland Brits. Once Jerusha Hess establishes the silly susceptibility of the Americans – Jennifer Coolidge arrives with malapropisms and the worst attempt at a British accent since Madonna – a troupe of Austen players goes in for the kill.
The result is a mannered festive vaudeville farce, thanks to a cast that balances updated Regency pomp with the cynicism of modern theme tourism, to the tune of music (spoofing Moulin Rouge) that leverages historical anachronism. As James Callis waxes an absurd moustache as a visibly gay suitor courting Elizabeth Charming, JJ Field is diffident, and Ricky Whittle plays a soap opera actor cast improbably by Austenland as a "Captain" who returns from triumphs in the Caribbean. These plays within a play hit high (and low) camp at a Jane Austen swimming pool. Think Austen Powers.
Hess, who co-wrote Napoleon Dynamite, a generational hit with its own mannerisms, keeps the comedy light, despite a can-you-top-this inanity that piles on the satire. The supposed reality check is Jane's budding bond in storybook locations with the servant Martin (McKenzie), which adds a wrinkle to the pageantry when it proves to be less than meets the eye.
James Merifield's elaborate production design compounds the Austen illusion and the parody, decorating the manor and its grounds with so many details that Austen infinity sets in. So will the demand to see that spectacle multiple times. The comedy of Merifield's eclectic Regency baroque, like the Austen costumes, the wild accents and gags with a cardboard standup Colin Firth, take the comedy far beyond the novel's printed page.
Russell, earnest in Austen awe and game for the send-up, brings an agile complexity to her man-seeking character without suppressing the laughs. Coolidge, always crowding into the frame, still takes American vulgarity past the pro forma template. Jane Seymour as doyenne of romance for profit is an iron fist clothed in velvet.
Deft mockery aside, this is a romance, after all. Hess never abandons that Austen core, although a welcome witty series of gags over the end credits – more vaudeville - will get the crowd to put its handkerchiefs away.
Production companies: Fickle Fish Films, Moxie Pictures
International sales: UTA, www.unitedtalent.com
Producers: Stephenie Meyer, Gina Mingacci
Executive producers: Robert Fernandez, Dan Levinson
Associate producers: Meghan Hibbett, Shannon Hale, Jared Hess
Co-producer: Jane Hooks
Screenplay: Jerusha Hess, Shannon Hale
Cinematography: Larry Smith
Production designer: James Merifield
Main cast: Keri Russell, JJ Feild, Bret McKenzie, Jennifer Coolidge, Georgia King, James Callis, Ricky Whittle