Dir: Gabe Ibáñez. Spain. 2014. 109mins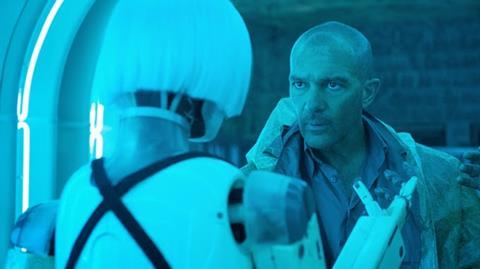 A strikingly slick and intriguing sci-fi thriller, Gabe Ibáñez's film, which premiered at San Sebastian prior to a US release, tackles the thorny issue of the development of robotic intelligence, with Antonio Banderas (also a producer) a bald-headed insurance agent/investigator who unearths dark secrets behind robots who are developing new capabilities.
Banderas is nicely intense and low-key as the reluctant and unlikely hero, taking it all suitably seriously and handling the action moments with appropriate ease.
Set some 50 years into the future, Automata is blend of I, Robot and Blade Runner, and at its best when making good use of its bleak, rainy, future city (where a variety of raincoats are the fashion order of the day) backdrop to present a dark and disturbing world. More of a film noir thriller than an out-and-out sci-fi adventure, it is driven by an impressive performance by Banderas as a tormented but determined hero. The film is set to open in the US in October, and its strong cast and striking sci-fi credentials should make iof interest to distributors.
Jacq Vaucan (Banderas), an insurance agent of ROC robotics corporation, investigates the case of manipulating a robot. What he discovers will have profound consequences for the future of humanity. With society in bleak disarray and humanity largely restricted to grim cities, the rise of ROC and its development of robots designed to aim mankind sits alongside society's decay.
The creation of the first quantum android, the Automata Pilgrim 7000, is designed to help mankind but Vaucan comes to suspect that the security protocols in place to ensure that there is always control over the androids is not quite as firm as thought. The 'second protocol' is that the robots do not damage themselves, but when he comes across a battered machine (or 'clunker') self-repairing he realises all is not well. Because self-repairing implies some sort of conscience.
With the help of robot-hating cop Wallace (Dylan McDermott, all snarling and slicked back hair) and a Dra. Dupre (Melanie Griffith), a scientist who 'alters' androids and creates pleasure-bots that share her face and her voice, he uncovers the secret behind who is manipulating the Pilgrim 7000, and finds himself thrust into a dark conspiracy.
Like Blade Runner before it, the latest film from writer/director Gabe Ibáñez (who made 2009's Hierro) favours the film noir detective style plot rather than out-and-out sci-fi action (such as I, Robot), and there is a good deal of angst and drama in amidst the story of corruption of machinery and the dangers of what can happen when machine mind start to merge. It is smoothly directed (it shot in Bulgaria) and elegantly made, with the rainy and moody atmosphere helping the film noir style.
Banderas is nicely intense and low-key as the reluctant and unlikely hero, taking it all suitably seriously and handling the action moments with appropriate ease. The strong cast add much to the proceedings. Melanie Griffith has a virtual cameo as scientist Dra. Dupre, bit also provides the voice for pleasure-bot Cleo who accompanies Vaucan. Birgitte Hjort Sørensen makes an impact as his troubled wife Rachel, while Tim McInnery is an unlikely – though oddly effective – bad guy. The presence of Dylan McDermott and Robert Forster add to proceedings, while Javier Bardem providing the voice of Blue Robert reinforces the film's A-list Spanish credentials.
Production companies: Green Moon, Nu Boyana Viburno
International sales: Millennium Entertainment, www.millenniumentertainment.com
Producers: Antonio Banderas, Sandra Hermida, Danny Lerner, Les Weldon
Screenplay: Gabe Ibanez, Igor Legarreta, Javier Sanchez Donate
Cinematography: Alejandro Martinez
Editor: Sergio Rozas
Production designer: Patrick Salvador
Music: Zacarias M. de la Riva
Main cast: Antonio Banderas, Birgitte Hjort Sørensen, Melanie Griffith, Dylan McDermott, Robert Forster, Tim McInnerny, Andy Nyman, David Ryall, Javier Bardem (voice)