Dir: Konstantin Bojanov. Bulgaria. 2011. 86mins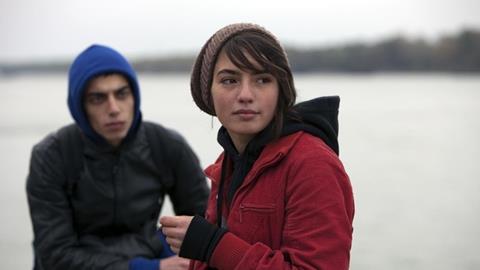 A road movie sustained by the perfectly calibrated, soulful performances of two youngsters barely out of their teens, Konstantin Bojanov's feature film debut manages to capture not only the frame of mind of his country's young generation but also some of their dreams and the crises they undergo.
The simple, immediate, straightforward charm of the two performers who move towards each other through each additional episode of the film overcomes the few narrative shortcomings.
Starting in a light mood that becomes darker as his two protagonists approach the goal of their journey, Bojanov's picture, despite some dead moments and inconsistencies in the script, skillfully manages to put aside the initial smiles for a graver - but nevertheless fresh and youthful - approach. Festivals will love this and its distinct theatrical potential shouldn't be ignored. The film screened in Cannes and recently at the Sarajevo Film Festival.
Art student Kamen (Ovanes Torosyan) is trying to hitchhike his way to a small town called Ruse, to attend the funeral of his closest friend who had committed suicide. On the roadside, he meets impish Ave (Andjela Nedyalkova) who jumps into the first ride he gets, claiming she is going to Ruse as well.
She sticks to him like glue with each subsequent ride to their destination, every time inventing a new story for their relationship, while in truth they don't even know each other's names. Once she pretends he is her brother; then that he is her pervert boyfriend; later that she is accompanying him back home where they are grieving for his brother killed in Iraq. She never warns him beforehand of her next fib until enraged he tries to get rid of her but without success.
By the time they reach the friend's home, they are again together, and she tells him her brother is a drug addict whom she's trying to save and then adds, a few minutes later, that she's had recent surgery and can't have sex. Visiting the friend's bereaved family turns out to be one of the film's most moving moments, after which comes the last act, in which the grain of truth is separated from the masses of lies and a final coda, when the boy discovers that lying can be useful at times and the girl once again slips back into the denial of a present she abhors, by evading into a prettier one she makes up at her convenience.
It is true that the script, which offers abundant information about the girl's family, completely ignores the boy's roots, and one would be tempted to wonder how come the two of them need to hitchhike when they obviously can afford public transportation. But the simple, immediate, straightforward charm of the two performers who move towards each other through each additional episode of the film - Kamen losing some of his surly disposition and Ave stopping for a while her evasive insouciance - overcomes the few narrative shortcomings.
The more the picture progresses, it clearly points out the generational gap between parents who are either too stiff or too removed from their offspring, who are disconcerted by the world around them and trying to escape, without quite knowing where to.
Production companies: KB Films
International Sales: Le Pacte, www.le-pacte.com
Producers: Dimitar Gotchev, Geoffroy Grison, Konstantin Bojanov
Screenplay: Konstantin Bojanov, Arnold Barkus
Cinematography: Nenad Boroevitch, Radoslav Gotchev
Editor: Stella Georgieva
Production designer: Nikolay Karamfilov
Music: Tom Paul
Main cast: Andjela Nedylkova, Ovanes Torosyan