The spread of Islamic fundamentalism across Africa has flung many ordinary Muslims' lives into turmoil. Timbuktu director Abderrahmane Sissako tells Elbert Wyche why he wanted to express their story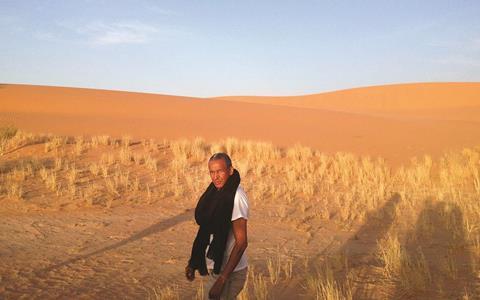 In July 2012, in a small city in northern Mali, a man and a woman were buried to their necks and stoned to death. Their crime was the existence of their two young children, born out of wedlock. Their story went largely unnoticed.
"I can't say I didn't know and, now that I do, I must testify in the hopes that no child will ever again have to learn their parents died because they loved each other," says Abderrahmane Sissako, the director of Timbuktu, a film inspired by the spread of Islamic fundamentalism across Africa.
It is clearly tough subject matter but one of the year's most relevant films; Cohen Media Group acquired US rights after the world premiere in Competition at Cannes. The film is now Mauritania's submission for the foreign-language Oscar.
Timbuktu centres on a herder, Kidane (Ibrahim Ahmed), whose happy and peaceful life in the dunes with his wife (Toulou Kiki) and their daughter (Layla Walet Mohamed) is thrown upside down when circumstances lead him to face the new laws of the foreign occupants.
Stories about average people who are forced to endure extraordinary circumstances are what led Sissako (Bamako, Waiting For Happiness) to film-making. He remembers: "Very early on I had the sense that I was living in a world that was not very fair. But I was often amazed by people's beauty. There were people who had nothing but who could easily burst into laughter, while remaining in their state of poverty. I always felt like I had to tell their story and talk about them — the anonymous people."
Harsh times
Timbuktu examines the misery the ancient capital experiences once Islamic funda-mentalists have taken over the city. Music is outlawed, football is banned and laughter is punishable by stoning. Women are oppressed and threatened as improvised courts issue sentences as absurd as they are unjust.
In December 2013, Sissako began shooting in Walata, Mauritania: the town where his grandfather grew up. For the director, it was as if he had come home. But it was a place not without its dangers. "There was
a great sense of solidarity and people were very supportive. The difficulty lay in the subject matter. Despite the fact that we were well protected by the Mauritanian army, there was always the risk of a suicide bombing," he recalls.
The rise of Islamic radicalism in the form of groups such as Islamic State (Isis) has led to broad-brush judgments. "There have to be Muslim voices who can speak out so that they can disassociate from that jihad phenomenon," says Sissako. "What's important to remember is that the first true victim of these people [jihadists] is Islam itself, which is taken hostage."
State of mind
The film is rife with symbolism. It opens with the image of a gazelle running through the desert. There is a statuette of the female form that has its face shot off by the militants. Children are seen playing football with an imaginary ball. All of this, and more, is part of an intricate image system created by Sissako that conveys the toll that extremism has taken on a peaceful community.
"The movie for me is very much about the forbidding laws and the laws that are against women — and the sense of injustice. It was important for me to show the resistance against those forbidding laws, thus the children playing with no ball," Sissako says. "In the film there is a woman who starts singing as she is being punished. Instead of crying or screams, she transforms that into singing. That's a form of resistance."
He notes that the scene with the statuette "represents the breach against culture, the threat against it. It shows that the jihad came from elsewhere and imposed their laws onto this place."
For Sissako, film is a conversation with the audience and, in essence, the experience of cinema is one of give and take. He explains: "The intent to come see movies is already an act of the desire to want to share."
He adds: "It seems like we live in a world where if victims look different from us we won't care that much. That's why I decided I needed to take on the role of the artist telling this story. That's the role of an artist in society — giving people the opportunity to see and understand stories."