Screen brings you a selection of this year's potential screenplay awards contenders.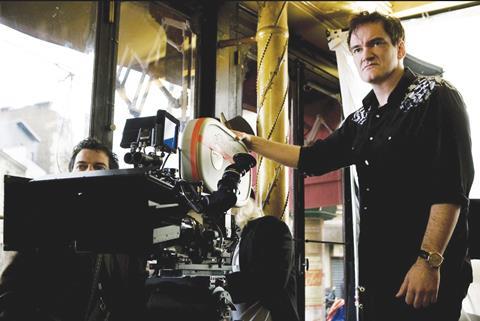 Tarantino hasn't been up for a screenplay Oscar since he won in 1994 for Pulp Fiction, but there is no question this year that his epic script for Inglourious Basterds will be a front runner. Full of the juicy monologues and verbal setpieces for which he is famous, the film is essentially composed of several long scenes in which the dialogue is the focus.
An inspired original from Joel (standing left) and Ethan Coen based on their childhood influences growing up in a Jewish community in the Midwest in the 1960s. Prefaced by a 19th century Yiddish folk tale about a dybbuk, the film is full of mordant humour and tragicomic situations as one catastrophe after another befalls their hero, Larry Gopnik.
Bob Peterson and Pete Docter
Peterson and Docter's script should follow Pixar's Toy Story, Finding Nemo, The Incredibles, Ratatouille and Wall€E to an original screenplay nomination. It features charming characters and a moving story, plus one of the most daring set-ups for an animated film so far ‹ not that the lead character is an octogenarian, but a heart-wrenching death within the first 10 minutes.
Jon Lucas and Scott Moore
The writers of mediocre comedies Four Christmases and Ghosts Of Girlfriends Past, Lucas (standing left) and Moore made their biggest impression to date with the undeniably hilarious script for The Hangover, a summer blockbuster which boasted real ingenuity and unpredictable comedy.
For all her success with recent movies What Women Want and Something's Gotta Give, Meyers' only previous Oscar nomination was for Private Benjamin in
1980. She has a good shot this year with her witty crowd-pleaser about romantic shenanigans between fifty-somethings in a wealthy Santa Barbara enclave.
Campion won the Oscar for original screenplay for The Piano in 1993 and she could repeat the feat with her original script for Bright Star, the portrait of the love affair between poet John Keats and his neighbour Fanny Brawne in 1818. Campion places poetry at the heart of the story in both a literal and figurative sense.
Reporter and screenwriter Boal (In The Valley Of Elah) spent weeks shadowing the US army bomb squad (aka Explosive Ordnance Disposal team) in Iraq beforereturning to the US to write the screenplay for The Hurt Locker, in the process creating the memorable character of Sergeant James.
Michael H Weber and Scott Neustadter
They wrote The Pink Panther 2 this year, but Weber (standing right) and Neustadter ironically gained a much higher profile from their bittersweet romantic comedy which turned into an unexpected hit for Fox Searchlight. A warm and witty look at contemporary relationships and one man's longing for the idea of love, the film is all about the script.
Even though Funny People had a mixed reception from critics and audiences, Apatow displays plenty of his customary brilliance in the sprawling screenplay which encompassed extensive stand-up routines, a bromance of sorts between a movie star and his apprentice and a family bust-up involving Eric Bana.
The fact Fukunaga is American and Focus Features is his backer prevented Sin Nombre from qualifying in foreign-language film categories, but his Sundance prize winner made a big enough splash to suggest that Fukunaga's fascinating glimpse into the underbelly of Mexican gang culture might have an outside shot at screenplay recognition.