David Oyelowo, Timothy Spall among shock actor snubs.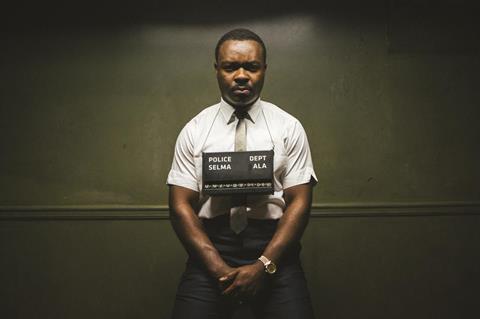 Selma was a shock shutout at today's BAFTA nominations in London.
Ava DuVernay's US Civil Rights drama scored four Golden Globes nominations last month, including for Best Picture Drama, Best Director and Best Actor for Brit David Oyelowo, who plays Martin Luther King.
However, the film was shut out at recent PGA, WGA and SAG nominations in the US with some reports claiming that PGA voters didn't receive screeners in time.
Industry insiders told Screen that awareness around the film could have been hampered by screeners only reaching some BAFTA voters late in the process and by the fact that it isn't released in the UK until next month.
Angelina Jolie's Unbroken and Paul Thomas Anderson's Inherent Vice were among other total shutouts. Unbroken Star Jack O'Connell is up for BAFTA's Rising Star award and he also leads Yann Demange's '71, which is nominated for Outstanding British Film.
While Mr. Turner is nominated in Cinematography, Production Design, Costume Design and Make Up & Hair, Timothy Spall's omission from the Best Actor category was another surprise.
Spall's performance as British painter J M W Turner has gone down a storm with critics and festivals alike with Spall picking up the Best Actor award in Cannes last May.
Mr. Turner director Mike Leigh was also omitted from the Best Director list.
While Clint Eastwood's American Sniper received only two nominations. Star Bradley Cooper and cinematographer Tom Stern may fare better at next week's Oscar nominations.
Voters in the Best Actor category favoured performances by Ralph Fiennes in The Grand Budapest Hotel and Jake Gyllenhaal in Nightcrawler after Eddie Redmayne, Michael Keaton and Benedict Cumberbatch were widely considered as locks. [Click here for more on the nominees]
Well-received British films Testament of Youth, Starred Up, Belle, Calvary and Locke were among those that might have made the cut for Outstanding British Film while Scarlett Johansson missed out on a Best Actress nomination for the feted Under The Skin, in what many consider to be a wide open year for the category.
Many had expected Meryl Streep (Into the Woods) and Jessica Chastain (A Most Violent Year) to feature in the Best Supporting Actress category while in a very strong year for Best Original Screenplay there was no place for Mr. Turner, Foxcatcher or Selma.
Inherent Vice was among strong contenders to miss out on Best Adapted Screenplay in another hotly contested category.