Benedict Cumberbatch reveals how he broke down with emotion during his last day playing Alan Turing in The Imitation Game. Elbert Wyche reports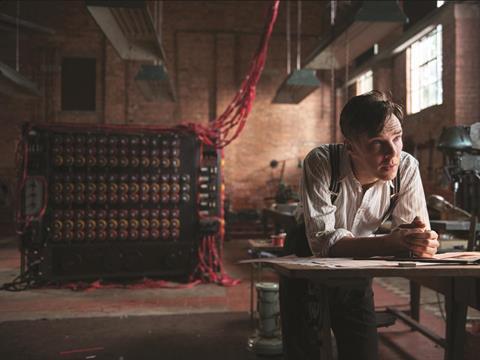 After spending a year in development purgatory at Warner Bros, The Imitation Game was put into turnaround in mid-2012. It was almost immediately picked up by Teddy Schwarzman's New York-based Black Bear Pictures. The script then made its way into the hands of Benedict Cumberbatch, while the UK actor was filming the role of Khan in Star Trek Into Darkness.
Cumberbatch knew he wanted to take the lead role as Alan Turing after reading the first scene. "I thought it was a witty, uncompromising way to introduce a man who I was already fascinated by and wanted to know more about," he says. "After finishing the script, I thought, 'Not only do I want to do this film, I have to.'"
The Imitation Game centres on the real-life story of UK mathematician Turing, who played a central role in cracking Germany's Enigma code while working at Bletchley Park in Buckinghamshire, England, during the Second World War. In 1952, Turing was charged with indecency for committing homosexual acts and was chemically castrated in lieu of prison time. He committed suicide in 1954.
Surprising research
The little Cumberbatch knew of Turing came from watching a play called Breaking The Code. As he began his research, he was taken aback by the lack of appreciation the man has received for his formidable accomplishments. "Why isn't he on the cover of history books and science books, among other things? He should be up there with Isaac Newton and Charles Darwin. He should be on our banknotes in England. I thought his lack of recognition was part of the tragedy of the man's story," Cumberbatch says.
In researching the role, Cumberbatch read Turing's biography to get a sense of who he was in his personal life, his demeanour and even his physicality. There is no video or audio recording of Turing, though Cumberbatch was able to meet with his nieces to hear first-hand accounts of what he was like.
"They both remembered him being incredibly convivial; treating them as adults," Cumberbatch explains. "As I was rehearsing, I tried out different voices to them, but it was difficult; they sort of said, 'We'll know it when we hear it.' It was a bit of a gamble."
To achieve the physicality of the role, Cumberbatch began running and adjusted his diet in order to appear "more gaunt", as Turing was. He even wore dental prosthetics in order to not only look like Turing but match his speech patterns, too. The actor also spent time at Bletchley Park, where much of the film takes place, to learn as much as he could about the machine Turing built to decipher Germany's secret code.
"It's a real language, something that requires a lifetime of study; diligent application. I knew I wouldn't be able to entertain all of that in a couple of months for a film. But it was important for me to try and validate the thought process; to at least try to get some of it down."
The producers brought in Norwegian director Morten Tyldum to direct from Graham Moore's script. Cumberbatch was a fan of the director's 2011 comedy thriller Headhunters. "He shot it beautifully," Cumberbatch remembers. "He's a bundle of energy as well as being a very insightful film-maker. He had the same passion for the subject matter as I did. I could lean on him for anything — details, questions about the era, all of that."
The film's subject matter weighed heavily on the actor, and he says he found the last day of shooting particularly moving. Filming the final scene, Cumberbatch broke down, unable to control
himself.
"I was crying after the takes and couldn't stop," he explains. "I'm outside of my character now, this is Benedict grieving someone else who I know and care for deeply — this beautiful and brilliant man."
When shooting wrapped, Cumberbatch found it difficult to let go. He does not want Turing's story and his vast contribution to history to go unnoticed. "Someone said to me the other day that if you google 'Alan Turing' you get [my name]. It's his work that led to the code that's being used in that search engine. You can ask any of the big leaders in Silicon Valley, all the tech giants — Turing was the godfather of computer science."
Cumberbatch's performance in The Imitation Game has garnered the actor Bafta, Golden Globe and Oscar nominations, among many others. He says he views the praise and recognition he has received for the role as another mechanism to bring Turing's story to the public consciousness.
"Ultimately, [nominations] are incredibly flattering to the work; it's a validation of the work on that front. I see it as a way to make the story reach further. Hopefully more people will get to know him."