Jake Gyllenhaal tells Jeremy Kay why it was important for him to get under the skin of Nightcrawler's sociopathic anti-hero, Lou Bloom.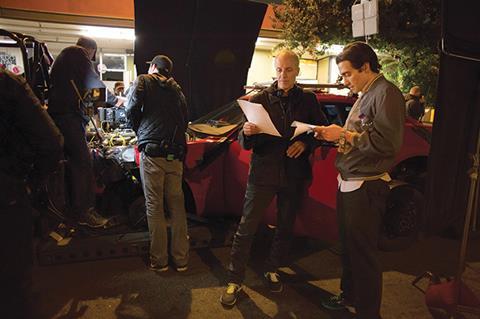 Jake Gyllenhaal, 30 pounds lighter and on a diet that left him perpetually hungry, felt like a feral apparition as he ran to the Los Angeles set of Bold Films' Nightcrawler each day.
"I made a decision that Lou was a coyote, scavenging around Los Angeles," says Gyllenhaal, whose portrayal of the freelance crime journalist Lou Bloom has earned him some of the best reviews of his career and a lead actor Spirit Award nod.
"All the coyotes I have ever seen are starving and looking for the next thing to tear apart. It matched perfectly with who Lou was. He was hungry, figuratively speaking, in his search for power and was literally hungry."
Nightcrawler is the directorial debut of screenwriter Dan Gilroy, whose credits include The Bourne Legacy and Tarsem's The Fall. Gyllenhaal, who can pick any project he likes, was undeterred by Gilroy's lack of directing experience. He read the script while shooting Prisoners in Atlanta, and three days later Gilroy was on a plane to the Deep South.
Gyllenhaal was fascinated by the film-maker as soon as they met. "I fell for the guy," he says. "The screenplay is written by someone who is very boldly saying, 'This is my movie to direct.' It rolls forward like this huge stone that you know is heading towards some moment of destruction.
"I signed on and discussed my producer role," Gyllenhaal continues. "[Bold Films] intended to shoot a short schedule on a small budget in LA. It was similar to End Of Watch, which I had executive produced. I wanted to learn more and [Bold Films] obliged."
'This was a character study of a success story, where we hoped the audience would be rooting for him'

Jake Gyllenhaal
Gyllenhaal's enhanced role meant he was privy to conversations with financiers, international sales company Sierra/Affinity and eventual US distributor Open Road.
He was struck how the ability to influence the outcome of the project in more ways than one bore similarities to the ambitions of his on-screen persona in Nightcrawler.
"Lou had intentions to be the guy who owns the station that owns the camera. There's a sense of producer aspiration for him and in that way it fit the character and was almost life imitating art and vice versa."

Street smarts
Although much of Bloom's extreme behaviour is fictional, Gyllenhaal conducted his customary research to familiarise himself with the camera-carrying 'nightcrawlers' who patrol after-hours Los Angeles for accidents, shoot-outs, car chases and other nefarious nocturnal incidents.
"We spent a number of nights with Howard Raishbrook [a self-styled 'stringer' who become a technical adviser on the film], me and Dan and the DP [Robert Elswit]," says the actor-producer.
"Howard and his brother roam the streets for whatever footage they can get, not just accidents but things like grizzly bears. I had spent five months on the streets with police officers from south Los Angeles for End Of Watch and I would occasionally see stringers at crime scenes."
Bloom is thick-skinned, power-hungry and creepy, yet his drive informs the film's most subversive theme. "It was so important to me and Dan that this be a success story," says Gyllenhaal. "This was a character study of a success story where we hoped the audience - even in their resistance - would be rooting for him. That was one of the first things Dan said to me, and I thought, 'I love this guy.'"
"Lou is a character who has been created by the internet as opposed to human-to-human contact. One of the most beautiful directions Dan gave me was during my pitch to Rene on why I wanted to be on TV news," he says referring to Rene Russo, who plays a network executive. "Dan said on one of the takes that I [should] ask her to marry me. It's full of irony because Dan is married to Rene in real life.
"We were also looking for the thing that moved Lou, in that he has sociopathic tendencies. We were constantly asking ourselves, 'Where's the beauty here?'
"I even approached the crash scenes as Damien Hirst art. I approached it as a cinematographer, believing this shot is so beautiful and the body was part of that. We were always hanging onto the other side of the see-saw to pull it right back to the middle so it was more complicated, somewhat confusing for the audience."