JK Simmons tells Michael Rosser how he brought the brutal teacher in Whiplash to life and how the role may change his career forever.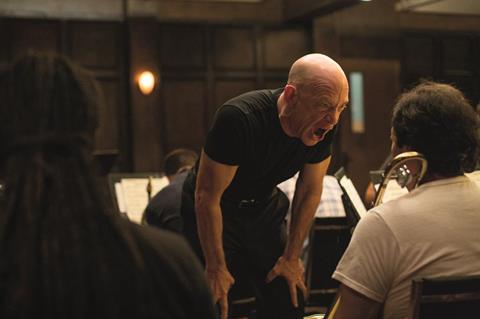 JK Simmons is often unrecognisable from one role to the next. From his scene-stealing newspaper editor in Sam Raimi's Spider-Man trilogy to the brutal head of the Aryan Brotherhood in HBO prison drama Oz, Simmons has built a career out of an impressive variety of supporting parts.
But there is no missing the veteran character actor in Damien Chazelle's music-academy thriller Whiplash. His domineering performance as Fletcher, the teacher and conductor of a jazz band at a top New York conservatoire, is fierce, intense and terrifying.
While some have compared the villainous aspects of Fletcher to his malevolent performance as Vern Schillinger in Oz, Simmons draws more parallels with a role from his 18 years in theatre.
"The character I feel is the closest in my résumé to Fletcher is the colonel in A Few Good Men, in which I was an understudy in the original production during my Broadway days," says Simmons. "Both have been referred to as the bad guy or villain but I was able to identify with their motivation and objectives - if not their methodology."
In Whiplash, that "methodology" includes throwing chairs, violent slaps and cutting taunts to drive his students to an almost unachievable greatness.
Simmons was first suggested for the role by Whiplash's executive producer Jason Reitman, who had directed Simmons in six of his films. "When I read the script I immediately fell in love and wanted to be the guy to play the character," recalls Simmons.
"It's such a thorough, mature, intelligent and passionate piece of writing. The thing I wasn't certain of was Damien's ability as a director."
That uncertainty was understandable since the 29-year-old film-maker had made only one previous film, Guy And Madeline On A Park Bench, compiled from student footage.
At their first meeting, Simmons and Chazelle quickly realised they were on the same page and Simmons starred in a short based on a scene from the Whiplash script, which picked up the jury prize at the 2013 Sundance Film Festival and helped to secure finance for a feature version.
Ahead of the feature shoot, Simmons knew he had to do his homework. "To be the guy that is intimidating in that world, I needed to be able to establish musical credibility," he states.
"I studied music in college and was a singer, conductor and composer. But I never conducted jazz and don't play the piano well at all. So I pored over all the scores for the film and I knew the scene where I play one little tune in a jazz club would require a significant amount of homework."
Asked who Fletcher is to him, Simmons responds: "He's a miserable guy. He's unhappy, frustrated and therefore angry. He's also a brilliant intellect and a great musical talent that doesn't let anything stand in the way of his pursuit of the one thing he cares about."
While "those ranting streams of horrible epithets are directly from the twisted mind of Damien Chazelle," Simmons reveals that he did change the wardrobe of the character.
"Damien has written the character of wearing a black suit with a crisp white shirt and necktie – more of a GQ guy," he recalls. "I envisioned more of a Jack LaLanne version. He was a bodybuilder and exercise guru who was big in the States in the 50s and 60s, and wore this small, black jumpsuit.
"It was important because the physicality of the character is part of his arsenal of weapons that he uses to intimidate."
A gruelling shoot
For the most part, the film is a brutal two-hander between Fletcher and young jazz drummer Andrew, played by Miles Teller.
On screen the relationship is tense, uncomfortable and often violent. But when the cameras stopped rolling Simmons says: "Miles and I quickly settled into a rhythm of acting like goofballs, joking around and acting like a couple of high-school knuckleheads."
The actor also praises Chazelle for completing the shoot in just 19 days: "It's so impressive for a young film-maker to be able to pull that off. I had a few days off during the shoot but it was really gruelling for Damien, Miles and the crew."
The effort paid off and Whiplash returned to Sundance in 2014, where it won the grand jury prize and audience award. Oscar buzz is now growing for Simmons, having been nominated for a Golden Globe and SAG award as well as already picking up numerous critics and festival prizes.
His upcoming roles are typically varied from big-budget features Terminator Genisys and Kong: Skull Island to an untitled romantic drama from Greek director Christoforos Papakaliatis.
"More opportunities are coming my way where I'm not the fifth guy on the list," adds Simmons. "I'm able to pick and choose a little bit more than before. I call it the Whiplash effect."