Cinematographer Robert Elswit talks to Elbert Wyche about the challenges of shooting dozens of late-night locations for Dan Gilroy's Nightcrawler.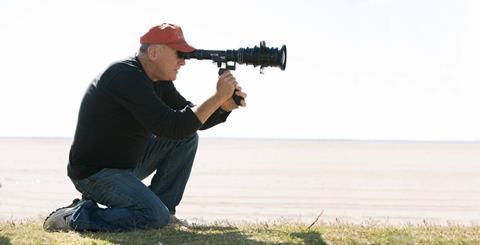 Robert Elswit has become one of the most respected and sought-after cinematographers in Hollywood.
He has often found himself working on multiple projects with the same director, including Paul Thomas Anderson on Inherent Vice and There Will Be Blood and Tony Gilroy on Michael Clayton and The Bourne Legacy.
While he maintains that directors choose him, he has certainly made a career that allows him to choose the director. And there are traits he looks for when deciding on a potential film-making partnership.
"Ultimately, it's up to them," he says. "We have a meeting and I get a feel for them. I like to get a feel for who they are as a person and whether we gel or not. When I find someone who is an actual film director, it's hard for me to say no."
With all criteria accounted for, Elswit came on board to work with Dan Gilroy on Nightcrawler.
The film, which premiered in Toronto and now has four Bafta nominations, follows Jake Gyllenhaal's neurotic Lou Bloom as he stumbles into a career filming bloody vehicle accidents and grisly crime scenes in Los Angeles so he can sell the lurid footage to local news channels.
Enter the night
Nightcrawler was a passion project for Elswit, who photographed it for a fraction of his usual fee - as did his team who work with him from film-to-film.
There was a certain intangible present within the Nightcrawler screenplay that struck a chord. He not only knew he wanted to do the film, he knew who would be perfect to play the leading role.
The cinematographer, who happens to be Gyllenhaal's godfather, helped to convince the actor to take the part.
"I tried to talk him into doing it but he was a little hesitant at first. But I felt the role was perfect for him. I'm so glad he decided to take it," Elswit remembers.
The situation was unique; despite their close connection, the two men had never worked together.
"It was fun to watch him go through this process. I've known him since he was born," Elswit adds.
Prior to filming, Elswit and Gyllenhaal spent time with an actual 'nightcrawler' to gain insight into this world. The experience allowed the cinematographer and actor to experience the pace and intensity needed to bring authenticity to the film.
The general rule of low-budget features is to limit your locations; to focus on creating drama that allows your company to move as little as possible.
That conventional wisdom went out of the window with Nightcrawler, a low-budget film with a script that called for 80 locations to be shot in 27 days.
"That was the way Danny [Gilroy] wrote it, and it was a great script. There wasn't a way to simplify it," Elswit says.
The only way to make it work was to plan every shot meticulously. Elswit and Gilroy spent weeks scouting locations, often more than once, finding ways to exploit existing light in their favour.
The fruits of their search allowed Elswit to find locations where exteriors had enough ambient light to make it unnecessary to light the background. The only lighting required was for the actors in the foreground, allowing the crew to move quickly.
Nightcrawler was shot both digitally and on film. Elswit used the Arri Alexa digital camera for night shots and utilised film for scenes during daylight hours.
The ongoing debate among film-makers is the perennial question, film or digital? For Elswit, the answer is simple - whatever works best for the project.
Nightcrawler required both formats while Inherent Vice shot completely on film. Elswit also used film on his next project, Mission: Impossible 5, which shot in London.
For Elswit, lighting allows the audience to experience a visceral reaction to what is happening on screen.
"My job as a cinematographer is to light the scene. What it really comes down to is creating a direct connection to the audience's feelings about what they are seeing. I figure out how to light a movie so that what's seen is also felt."