Local hits Spanish Affair and Spanish Affair 2 have given LaZona Films the confidence to expand into television, producer Gonzalo Salazar-Simpson tells Elisabet Cabeza.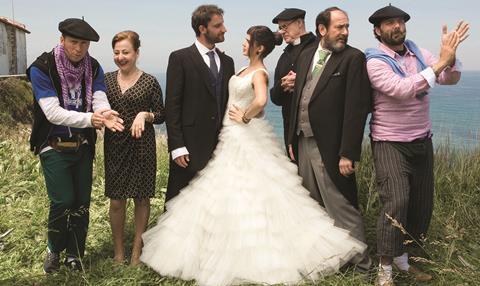 Producer Gonzalo Salazar-Simpson co-founded LaZona Films with his brother Ignacio in 2003. In the past decade, the company has become a major player in Spain, producing record-breaking hits such as Emilio Martinez-Lazaro's 2014 comedy Spanish Affair, which is the biggest Spanish film of all time at the local box office. Its sequel, Spanish Affair 2, opened late last year and is the highest-grossing film of 2015 with $40m (¤37m) and counting.
Both films were directed by Martinez-Lazaro and are Spanish versions of French fish-out of-water hit comedy Welcome To The Sticks. They each have fun with regional stereo­types and cultural differences. The first Spanish Affair focused on a fun-loving young man from Andalucia, played by popular stand-up comedian Dani Rovira. He falls for a more serious Basque girl (Clara Lago) and travels north to the Basque country to meet her parents. Spanish Affair 2 sees the action move to Catalonia.
"I have to be passionate about a project. It has to become a bit of an obsession."
"The success of Spanish Affair and Spanish Affair 2 has given us muscle enough to tackle two features a year and to start working on something we had been longing to do for a long time — producing TV series," says Salazar-Simpson. The company is working with Movistar Plus on a project to be directed by Enrique Urbizu (No Rest For The Wicked) that will shoot later this year.
"The arrival of Netflix and Movistar Plus, and their goal of producing TV series more in the line of what HBO is doing, has been a great incentive for us," says Salazar-Simpson.
LaZona is now in post-production on the feature Plan De Fuga, directed by Inaki Dorronsoro, whose credits include The Distance. The thriller stars Luis Tosar and is a co-production with Atresmedia Cine.
Two further films are set to shoot this year. The first is Vicente Villanueva's comedy Toc Toc, based on a play by Laurent Baffie about six characters who meet in a psychologist's waiting room. LaZona is producing, with Atresmedia Cine as co-producer.
The other is Coastland, the feature debut of UK-born film-maker Ben Gordon, who grew up in Spain. "It's a story set in the Costa del Sol that portrays three different worlds — the one of the natives, people that changed their traditional rural life with the arrival of tourism; the British who set sail to establish themselves under the sun; and the illegal immigrants who also get to the coast," Salazar-Simpson explains.
LaZona is also developing a script by The Ninth Gate writer Enrique Urbizu and the second feature by Oscar-nominated Esteban Crespo, a thriller called Black Beach set in Madrid, Paris and Guinea.
A third Affair
Salazar-Simpson does not rule out a third Spanish Affair. "We are certainly thinking about it," he reveals. "But the next step is to make sure we can do it. Ensure we have a good screenplay and the agreement of the director and cast to work on it again. Nobody is going to commit to another sequel if we don't have a powerful story.
"I have to be passionate about a project," he adds. "It has to become a bit of an obsession in my life to make sure it's going to be made. Then I look into ways of financing it."
Time of opportunity
He believes it is a good time to be making films in Spain. "Spanish cinema has proved that all films are possible, never mind the language, the genre, the budget, the story," he says. "They are so varied… they range from [JA Bayona's] The Impossible to Spanish Affair."
Like many Spanish producers, Salazar-Simpson would like to see the government make changes to the rules surrounding the level of public funding and tax incentives available per project which, when combined, cannot exceed 50% of a film's budget.
"If that were changed, things would be easier," suggests Salazar-Simpson, who points out it is up to film-makers to make films that audiences will pay to watch.
"It doesn't matter if it's a mainstream movie for a big audience or an auteur film for a smaller audience," he says. "As producers we have to work towards international co-productions, for better tax incentives. We are doing it and it's working."