Stephen Daldry tells Andreas Wiseman how he hopes his comedy thriller Trash will help change established perceptions of Rio's favelas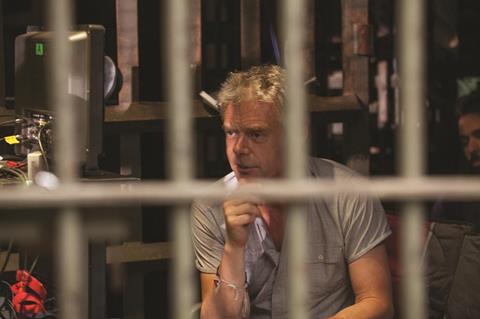 Bafta-nominated crime comedy Trash, produced by Working Title, London-based Pea Pie and Fernando Meirelles' Brazilian outfit O2 Filmes, charts the journey of three young boys from a Rio favela. The gang make a discovery on a garbage dump that places them in the middle of an investigation into police and establishment corruption.
The Portuguese-language production — part chase thriller, part comedy caper — stars a combination of non-professional actors from the favelas and international names including Rooney Mara, Martin Sheen and Brazilian actor Wagner Moura. Triple-Oscar nominee Stephen Daldry directs Richard Curtis's script, and the film is due to be released by Universal in the UK on January 30.
Despite its powerful genius loci, the Universal-backed UK-Brazil co-production was not always destined to be shot in the South American territory. "Andy Mulligan's novel, Trash, is set in a developing country and was loosely based on India, Brazil and the Philippines," explains Daldry.
It was his experience in acting workshops in Rio's favelas and with O2 Filmes that tipped the balance in Brazil's favour.
"I hadn't even decided to do it before I went to Brazil," says the theatre and film director. "It was when I started working with a variety of groups in Rio that it became apparent there was a huge optimism and energy that fitted with our film. This was before the big pre-World Cup demonstrations.
"We realised we could fit the story there, partly because of the huge local anger against the police and 'police pacification' [the process by which Rio police reclaim favelas from gangs]."
It took a full eight months working in the favelas to find the film's remarkable non-professional lead actors, Rickson Tevez, Eduardo Luis and Gabriel Weinstein, who were all aged between 13 and 14 at the time. "Like all casting of any young performers, it just takes an awful long time. They will emerge if you trust the process but you can't do it quickly," explains Daldry, known for his successful collaborations with child actors from Jamie Bell in Billy Elliot to Thomas Horn in Extremely Loud & Incredibly Close.
Tevez, Luis and Weinstein did not know each other and came from different parts of the city. "Each boy had his own challenging personal background, including family members who had been killed," says Daldry. "They lived in non-traditional family structures and they are very reluctant to go to school. They'd never been to a cinema. So it was about creating a structure in which they could understand what they might be engaged in."
The shoot inevitably relied on improvisation and patience. "The children often live without boundaries, so obviously you're trying to explain boundaries such as turning up on time. Sometimes they wouldn't turn up at all."
Learning the script and acting for camera posed particular challenges for the boys. "For the kids to learn a line and then say it back to us was not part of their tradition, nor was it achievable. We tried to explain the story and the context to make it applicable to them, and then allowed them to interpret the story and tell it back to us in a way that made sense to them.
"They couldn't repeat action; they'd only do it once but they didn't understand we would need to move the camera, so you'd just hope for the best in the edit room."
Serious crime
As the production immersed itself in favela life, it had to contend with serious crime, something Meirelles' O2 had dealt with during acclaimed 2002 drama City Of God and TV series City Of Men. "In unpacified communities, you need to go in early," explains Daldry. "You go in way before you start filming, and do deals with the different militia gangs that are running the area and get their permission. But sometimes that version of law and order broke down and we had to stop filming for the safety of our people.
"There were a lot of guns about and we did have to stop filming while there was shooting around a couple of times, sometimes for sustained periods."
Considering the everyday danger facing the inhabitants of favelas, did Daldry feel comfortable employing locals who would return to poverty and danger once the cameras stopped rolling?
"One of the advantages with working with O2 is that they're very used to setting up structures for the local community," he says. "They have a fantastic reputation among the local kids thanks to their previous film and TV work.
"We were conscious of making sure we were putting money into these communities and paying local people who we used as much as we could," he continues. "When it came to the boys getting paid, it's about safeguarding their income stream over a series of years so they or their families don't spend it all at once.
"One has to be careful with this question," cautions Daldry, "because as far as the kids are concerned, they live in the best possible place on Earth.
"There are challenges, there is brutality, but there is in Tottenham or Dagenham too, and people in the favelas we filmed in often have a much more fulfilled and joyful life than those people."
That sense of joy, which came directly from the three leads, influenced the film's ultimately upbeat finale, says Daldry. "As much as possible I wanted to put in the film what the kids wanted to talk about and how they perceived Brazil. I asked them, 'Do you want to get killed or do you want to get away?' and they said the latter.
"There are a lot of bourgeois film-makers who go into these communities and show a world that's only full of violence and drugs and everybody dies, which is one way of seeing the world, but I'm not sure in this case it was a world the kids recognised. I wasn't going to impose some western idea of poverty being absolutely disgusting or that everybody in these communities is immoral. It was challenging for some Brazilians to handle the idea the kids could have a strong moral compass. Many just want to build walls around those communities."
Despite that, the film was well received with audiences at Rio Film Festival in October, with cinema-goers connecting with the film's humour in particular.
As Daldry concludes: "It's a tonally complex film for people to pigeonhole and I quite like that problem with it."