Documentarian Steve James talks to John Hazelton about capturing the career and spirit of Roger Ebert while avoiding the pitfalls of hagiography.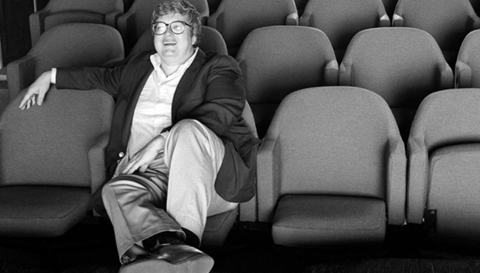 Before he made Life Itself, Steve James had what he describes as only "a very casual professional relationship" with the documentary's subject, Roger Ebert.
And that, James suggests, gave him the freedom to paint a fuller picture of the influential US film critic, who died in 2013 after a well-chronicled struggle with cancer.
"I knew from the get-go that it was going to be an admiring portrait," says James, whose award-winning 1994 documentary Hoop Dreams had been famously championed by Ebert, "but I also didn't want it to be hagiography. I wanted to show, as best I could, the man and some of the rough edges that he clearly had and the growth that he went through."
James's starting point was the memoir - also titled Life Itself - that Ebert had published in 2011, years after cancer had taken away his ability to speak and necessitated the removal of his lower jaw.
The memoir - excerpts from which are read in the film by an actor emulating Ebert's voice - is "perhaps Roger's highest accomplishment as writing", says James.
"It has a kind of poignancy to it. So I wanted to achieve a similar thing in the film. The idea of seeing his life in the present and using that as a springboard to the past was part of the original thinking."

Moments in time
Archive footage was readily available thanks to Ebert's rise to TV fame in the 1970s, when he began co-hosting - with fellow critic Gene Siskel - the succession of film review shows that made "two thumbs up" a movie criticism catchphrase.
'I knew it would be difficult to watch. This was a whole different level of candour that he was willing to do, and wanted to do'

Steve James, film-maker
With the archival material, "I really wanted to put you back in the moments of his life," James explains, "to show what a vibrant and active and hilarious and contentious guy he could be."
On-camera interviews - with Ebert's wife Chaz, friends and colleagues from his Chicago newspaper days, other critics and film-makers including Martin Scorsese (one of Life Itself's executive producers), Errol Morris and Werner Herzog - gave James another way to round out the portrait, which has been shortlisted for the best documentary feature Oscar.
The director had been planning to get his 'springboard to the past' from freshly shot footage of his subject at work and at home, but things changed when Ebert was hospitalised with a fractured hip in late 2012.
That meant the new footage had to be shot over the four months - the last months of his life, as it turned out - that Ebert spent in hospital and then a rehabilitation centre.
While the footage shows Ebert never lost his determination or wit, it also shows some of the medical procedures and painful rehab he had to endure.
James says he always knew "some people would view the film as having too much of that". He adds: "But I've been heartened by the number of people who feel it's an absolutely essential part of the story, and a moving part of the story. It said so much about his courage, his perseverance, his sense of humour.
"I knew it would be difficult to watch because for all of Roger's candour in his public life this was a whole different level of candour that he was willing to do, and in fact wanted to do."

Two thumbs up
James, an Academy Award nominee whose documentary credits also include Stevie, The Interrupters and a segment of the anthology We The Economy: 20 Short Films You Can't Afford To Miss, says he had complete autonomy in the making of Life Itself. Unlike some famous or film-savvy documentary subjects, Ebert set no ground rules.
What James did not have was the chance to show the finished film - which premiered at Sundance in February and saw a US theatrical release this summer - to Ebert himself.
"Normally," says the documentarian, "near the end of a project, I show the main subjects the film and if they have issues with stuff we talk about it. Sometimes I've changed things because they've been convincing; a lot of times I've said, 'I hear you, but it has to stay in.'
"I think that process would have been really interesting to do with Roger because I feel confident he would not have said, 'You're being too hard on me,' here or there. If anything, he might have said, 'You could push that further.'"