The role of the EFAs is changing as they become more than just a chance to celebrate the best in European film-making. They now have a part to play in campaigning on important issues and bringing collaborators together.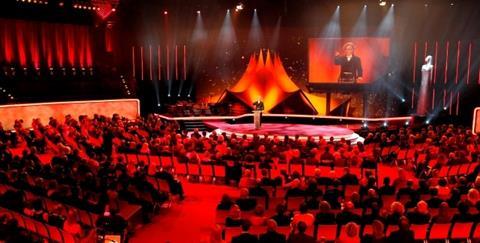 The European Film Awards (EFA), now in their 28th year, are an established part of the awards calendar. Although they do not attract the same level of international interest as the Oscars, Globes or Baftas, the awards may have never been more important.
At a time when European broadcasters are increasingly reluctant to show European cinema, the EFAs — an initiative of the Berlin-based European Film Academy — champion the idea that European films should be shown and celebrated across European borders. "It is great that they exist, great that there is that recognition for European film-making," says Ed Guiney, producer of The Lobster, which has been nominated for five EFAs this year. "The EFAs give a profile to films that might not otherwise circulate so widely."
Ever since Polish director Agnieszka Holland was appointed chair of the board of the European Film Academy at the beginning of 2014, the EFAs have taken on more of a campaigning stance. "For a long time, the European Film Academy considered itself a non-political organisation and did not want to take a stand on any political issue," notes Pascal Edelmann, head of press and public relations for the European Film Academy. "That is changing. Now, the Academy is ready to take a stand on certain political issues."
Force for good
"I firmly believe one of the roles of the Academy going forward is a campaigning one and an advocacy one," suggests UK producer and EFA deputy chair Mike Downey.
As an example of that, this year's awards show will see attention paid again to the plight of Oleg Sentsov, the young Ukrainian director recently sentenced to 20 years in a Russian prison on alleged terrorism charges that many believe to have been trumped up. An actor will read out Sentsov's words from his trial in Rostov-on-Don in Russia, and footage from Max Tuula's documentary about the Sentsov case will be screened.
Around 3,300 EFA members have voted for the winners of this year's EFAs. Youth and The Lobster lead the field with five nominations each, Christoph Waltz and Charlotte Rampling will pick up lifetime achievement awards and Michael Caine is being presented with the honorary award of the EFA president Wim Wenders and the board .
However, two of the highest-profile European festival films of the year, Jacques Audiard's Palme d'Or winner Dheepan and Laszlo Nemes' Cannes Grand Prix winner Son Of Saul, are not in contention for EFAs. This is nothing to do with eligibility — their rights holders decided not to enter them.
In the case of Son Of Saul, this was partly a timing issue as the film has not yet been released in most European territories and the film-makers did not want to campaign for votes using screeners and links.
"We didn't want to spread the DVDs and links before the release of the film in cinemas in countries [where] we sold the film," says producer Gabor Sipos. "We strongly believe in the theatrical release of our film, even preferably on a 35mm print."
Another factor, according to one well-placed observer, is the fear an EFA campaign might "impede" the two films' runs at the Oscars. (Son Of Saul is Hungary's foreign-language submission and may well pick up nominations in several other categories.) The net result is that the EFAs are being held without two of the most significant European films of the year being in contention. Nor will these films be eligible for next year's EFAs.
"As an institution that has been dedicated to promoting European cinema for 28 years, you would hope that people are keen on participating and that European film-makers would be very happy and honoured that they are invited with their films to be part of the selection, but the reality isn't always what you would like it to be," admits Edelmann.
Critics believe the EFAs still have a lop-sided voting system. For example, there are more French and German Academy members than there are Scandinavian ones. Icelandic producer/director Fridrik Thór Fridriksson sees this as a reason why Benedikt Erlingsson's 2013 film Of Horses And Men, which Fridriksson produced, may have been overlooked in spite of receiving rapturous reviews and picking up prizes at many festivals.
"You have thousands of people from Germany and France, Spain and Italy. It is just not fair," says Fridriksson. "If the Academy is going to work and choose the best films, then they have to make big changes."
Fridriksson says he is thrilled Grimur Hakonarson's Cannes prize-winning family drama Rams (which he didn't produce) has been nominated for best European film.
Downey acknowledges "the comparative dominance of the bigger countries" but also points out a "black-and-white Polish film" (Pawel Pawlikowski's Ida) won best European film last year.
Fostering collaboration
On an industry level, the EFAs can be regarded as a talent showcase. Academy members are exposed to work from film-makers they might otherwise never have heard of — and sometimes this might lead to distribution or co-production opportunities.
"Again and again we talk to people and find out they discovered such and such a film-maker because their film was in the selection," notes Edelmann.
The special industry prize, the Prix Eurimages for best European co-producer, which is being awarded to Lucky Red founder Andrea Occhipinti this year, underlines the importance of the EFAs in European collaborations.
Next year's event will be held in the Polish city of Wroclaw, European Capital of Culture 2016. Then it will be back to Berlin in 2017. Since the EFAs are financed by German public money, this is an event that, for the foreseeable future, will continue to have a very sizeable German footprint.