How did the Swedish actress who made her name in a Danish film climb up the international A-list so quickly? Charles Gant charts the stellar career so far of The Danish Girl's Alicia Vikander.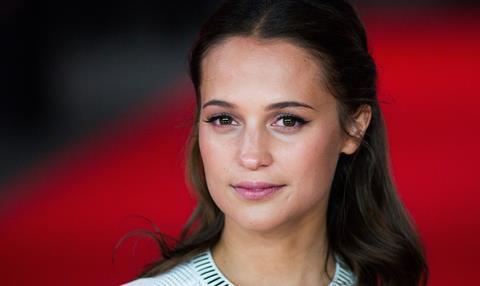 Alicia Vikander was on the Tube in her adopted city of London when she read the long-rumoured film of The Danish Girl was finally proceeding. Tom Hooper was to direct Eddie Redmayne as artist and transgender pioneer Lili Elbe.
"It's one of those scripts that a lot of people had heard about," recalls the 27-year-old Swedish-born actress, speaking to Screen in London on a shooting break from the new Bourne film.
"I knew people that had read it and said it was good. I saw it in the newspaper and I was really excited because I thought it was a very brilliant duo [of actor and director], and I was, like, 'Oh, I'm really looking forward to seeing that film.'
"And then it was two days later, one of my agents called me up and said there was a second very good female role. I read it, and I thought it was one of the best scripts I'd read in a very long time. An extremely unique love story, a role that I really felt that whoever gets that part is given the chance to do something very in-depth and emotional."
"My feeling was that Alicia was incredibly driven and hard-working — she had learnt Danish to do A Royal Affair," Lucy Bevan, casting director.
Considering the kind of acting showcase provided by the subject matter and the Oscar credentials of director and lead actor, as well as the film's selection at both Venice and Toronto, The Danish Girl was always going to be part of the awards conversation.
Redmayne, in particular, following his triumphant awards sweep as Stephen Hawking in The Theory Of Everything, looked set for plenty of voter attention for his cross-gender performance.
But it's beginning to appear that Vikander, in the subtly complex part of Lili's wife Gerda Wegener — who finds artistic acclaim when she starts painting her husband as Lili, stimulating a gender transition that ultimately tears at their marriage — has the best chance of going the distance. She is the film's only nominee at the British Independent Film Awards.
Rapid rise
Vikander's rise has been meteoric. It was only in 2012, with A Royal Affair's premiere at the Berlin International Film Festival, and then with Anna Karenina in Toronto the same year, that the actress announced herself on the international scene.
In truth, she'd been an open secret in London casting circles, having been introduced to key casting directors by her London representation, Angharad Wood and Charles Collier at Tavistock Wood. Jina Jay, Lucy Bevan and Nina Gold all met with her, having watched her award-winning Swedish film Pure. Between them, they went on to cast her in Anna Karenina, The Fifth Estate, Testament Of Youth, The Danish Girl and Burnt. (She also stars in Alex Garland's Ex Machina, for which she is nominated for a European Film Award.)
They all reach for notably similar adjectives when describing her qualities: as well as regular superlatives such as "beautiful", "phenomenal" and "incredibly talented", you'll hear a lot of "focused", "committed" and "dedicated".
"Her performance in Pure really showed you she had a huge range and a huge ability at such a young age," says Bevan, who pushed for Vikander to play her first English-language lead role as anti-war campaigner Vera Brittain in Testament Of Youth.
"There was a concern about casting a Swedish actress playing an iconic Englishwoman, but my feeling was that Alicia was incredibly driven and hard-working — she had learnt Danish to do A Royal Affair. I didn't have any concern about her nailing the accent, when she had already convincingly pulled off a whole other language."
"Tom jumped in and said let's just sit down and talk for a while."
"She's a really good actress," says Gold. "She's not at all neurotic — I probably shouldn't say this — like some English actresses are. She's very grounded and secure in her body and her craft. And she does have incredible discipline and work ethic as well."
"She's extremely talented," adds Jay. "I guess that has aligned with having a great London agent in Angharad and Charles, and meeting great directors who are also working on great material. It's just like all the stars are aligned. She's a force of nature."
Vikander herself credits Redmayne, whom she'd first met when presenting an award together at the Baftas, and Hooper with making her feel comfortable through the audition process for The Danish Girl.
"Tom jumped in and said let's just sit down and talk for a while," she recalls. "They let me do the process you normally have when actually doing the work. It was very generous of them to give me that chance of actually feeling I had the time to find something together with them and with Eddie. I really enjoyed it, even though I was nervous, because it was an audition that meant a lot for me."
Pick of the parts
It may also be one of the last she's required to undergo, such are her bounding leaps up the Hollywood A-list. Already, Guy Ritchie's The Man From U.N.C.L.E., in which she plays a secret agent going toe-to-toe with Henry Cavill and Armie Hammer, arrived as a firm offer.
"I couldn't believe it for three days," she says. "I actually called my agents several times. I couldn't get my head around it. Because of course at some point I was going to come in and do some sort of reading. I just did not get it."
Vikander's relationship with her agents — Laura Munsterhjelm in Scandinavia, Wood in London and UTA's Theresa Peters in Los Angeles — is unusually strong, and she typically talks to all three, regardless of where an offer first lands.
"I've met actors who've told me that they really like to [just] have a business relationship and of course it's down to whatever chemistry you end up having. I'm really close friends with my agents. I've gone on holiday with some of them. They are people who are my friends that I trust."
She will be needing their advice more than ever as she negotiates awards season — an experience that's pretty fresh to her. "I'm kind of getting an insight now," she says, with a hint of understatement. "I haven't been so aware of the way that works, because it's not the same where I am from."
The only challenge remains her ever-packed schedule. Justin Chadwick's Tulip Fever and Derek Cianfrance's The Light Between Oceans are shot and awaiting release. Paul Greengrass's new Bourne film, starring Matt Damon, shoots until the start of February, continuing in London, then in Washington DC and Las Vegas — and it's a safe bet The Danish Girl's US distributor Focus is already calculating how quickly it can whisk her from the latter location to Los Angeles. "I need to be on set for the days I am needed," says Vikander. "But I hope to be at screenings and support the film."