Weta Digital has grown from one computer to a global VFX powerhouse employing 1,000 people. John Hazelton talks to key executives Richard Taylor and Joe Letteri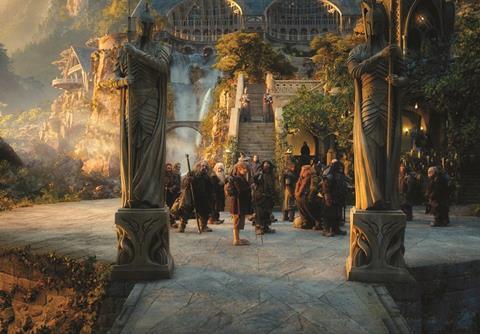 It all started with a single employee and one leased computer. That was all that was necessary to create the dozen or so digital effect shots required for Peter Jackson's 1994 drama, Heavenly Creatures.
But even then Jackson and his film-making cohorts - among them Heavenly Creatures miniatures supervisor Richard Taylor and editor Jamie Selkirk - had bigger things in mind. Before long they had pooled their resources to buy that computer and launch Weta Digital. Today, the Wellington, New Zealand-based digital effects company - named after a grasshopper-like Kiwi insect - produces much of the global film industry's most dazzling VFX work.
"We had aspirations to do something fairly significant," says Taylor, who with wife Tania Rodger worked on Jackson's earliest films and now heads Weta Digital's design and physical effects sister company Weta Workshop.
"And Peter being who he is, I'm sure he aspired to making huge movies. But in all honesty we never imagined it would become what it has become - that one computer would grow to the scale that it has now." Weta's early growth was spurred by Jackson's 1996 horror comedy The Frighteners, which required 400 digital effects shots, at the time a record tally. And though the collapse of the director's first attempt in the mid-'90s to remake King Kong was almost a fatal blow, the company was kept going by work on its first Hollywood feature, Robert Zemeckis's 1997 sci-fi epic Contact.
The growth forced Weta to start recruiting VFX talent from around the world; a task, Taylor recalls, that was not always easy.
"Right up to the beginning of The Lord Of The Rings we found it very difficult," he says. "I flew to the States and handed out flyers asking if anyone was interested in joining us in New Zealand. We got one person.
Four years later, after the first [Rings] movie had come out, we were getting up to 40 portfolios a week." Jackson's The Lord Of The Rings films, which earned Weta teams the best visual effects Oscar and Bafta three years in a row, shot the company to prominence and raised the VFX bar for an entire industry.
In 2001, The Lord Of The Rings: The Fellowship Of The Ring first showed what could be done with Massive, the software program developed at Weta by Stephen Regelous (who subsequently, with the company's blessing, used the program to launch his own Massive Software) to animate large numbers of independent characters.
The Lord Of The Rings: The Two Towers (2002) illustrated big advances in character animation and the use of motion capture. It also marked the arrival at Weta of Joe Letteri, who became the company's senior VFX supervisor and one of its directors.
Running rings
Having worked in his native US for Jurassic Park effects house Industrial Light & Magic, Letteri was, he says, "interested in the idea of how you make something come alive. So Gollum was the perfect opportunity - a character who was almost human, who had a speaking part, who had to work with other actors in the same scene and be believable in that realm."
To bring this pivotal character - modelled on the performance of actor Andy Serkis - to life in The Two Towers, Letteri and his team used research on the 'sub-surface scattering' of light to develop software for the animation of realistically translucent human skin, work that earned Letteri, the team and the researchers a technical achievement award from the Academy of Motion Picture Arts and Sciences (AMPAS).
The trilogy's conclusion, 2003's The Return Of The King, and Jackson's successful second run at King Kong (another Oscar and Bafta visual effects award winner) helped shape an operational strategy that Weta Digital has employed ever since.
Each project required around 2,000 digital effects shots and when he divided up the work and assigned 500-shot sequences to supervisors working under him, Letteri realised he had found a model for handling multiple film projects without sacrificing quality.
"So we just stayed with that model," he says, "and it gave us a real advantage. I could look over the work for not only consistency but also the creative and technical approach. It allowed us to look holistically at the kinds of technologies we needed to develop." In 2009, James Cameron's Avatar - which brought the Weta team yet another Oscar-Bafta double - provided the company with its first 3D project and its first major venture into an all-digital world.
"We had to come up with tools that would allow James Cameron to direct all the aspects of the film in a virtual world," Letteri explains, "the same way he would with a live-action film. So we put all these ideas together, along with a massive R&D phase. It took us about a year to re-invent everything that we needed to handle the scale and scope."
New trilogy, new techniques
Jackson's The Hobbit trilogy, whose finale, The Battle Of The Five Armies, hit cinemas this Christmas, reaped the benefit of work and research on earlier Weta films. But it also illustrates the company's determination to keep improving from project to project.
On The Return Of The King, Weta had experimented with performance capture on a live-action set rather than on a specially lit stage, "but it didn't work out as well as we had hoped," Letteri concedes.
The technique was revisited on 2011's Rise Of The Planet Of The Apes and then used to full effect on The Hobbit trilogy opener An Unexpected Journey.
Says Letteri: "That was a new technology we came up with that allowed us to overlay the motion capture cameras and equipment right on top of the live-action stage. We could put Andy [Serkis, as Gollum] on stage with Martin [Freeman, playing Bilbo] and capture everything he was doing." Weta's philosophy of advancing as well as using digital effects technologies is now built into its corporate structure.
The company's now 1,000-strong workforce incorporates a research group of mathematicians and computer scientists that publishes reports and partners with universities and other VFX facilities. Proprietary technologies resulting from the research work have included Tissue, a muscle simulation software program that in 2013 earned an AMPAS science and engineering award; and Manuka, Weta's new renderer (this time named after a type of New Zealand tree).
After using Pixar's Renderman software for a number of years, Letteri explains: "We got into more detailed research and heavier mathematics and realised that we needed our own renderer to be able to test those ideas.
So we wrote a renderer that is physically accurate but geared towards developing large scenes, because we work with directors like Peter and James Cameron who will point the camera somewhere and say, 'Show me the world there.'"
Future breakthroughs
Manuka and other new technologies will come into play on forthcoming Weta projects including Zack Snyder's Batman v Superman: Dawn Of Justice (now in post production and headed for a March 2016 release), Cameron's three Avatar sequels (for which Weta is currently doing R&D work) and Steven Spielberg's Roald Dahl adaptation The BFG.
The latter, set for a summer 2016 release, will involve "another breakthrough in how we integrate virtual worlds", Letteri promises.
"Steven's really keen to try some new filmmaking techniques on that." As for the future of Weta Digital, the company will continue to focus on character animation, on working in close partnership with directors and, whenever possible, on projects for which it is the sole effects provider.
"I find it very satisfying to work on films like The Hobbit or the Planet Of The Apes series [Weta also did the effects for last summer's Dawn Of The Planet Of The Apes] where we are crafting the entire film with the director," Letteri says. "Because it really allows us to create the world holistically and to look at every aspect of it." The VFX industry trend for international expansion is not on the cards for Weta, adds Letteri, who, like many effects practitioners since, moved from the US to New Zealand to join the company.
"We're the only major VFX house that does not have any offshoots and that stems from the way I like to work," says the 14-year Weta veteran. "We've got a really good, close-knit team. All the key creative people have been together for 10 years or more and we have a shorthand. I'd rather have people close by that can learn from this team than have a satellite team that you're having to bring up from scratch."