Dir/scr: Craig Moss. US. 2012. 88mins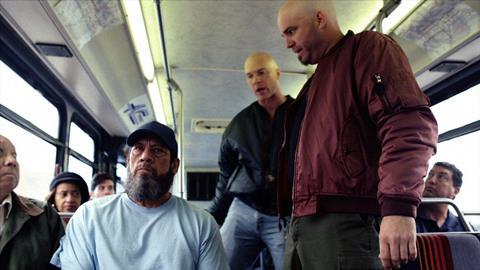 Though cult star Danny Trejo - best known as director Robert Rodriguez's favourite tough guy - certainly fits the part in Bad Ass, the film itself is a clunky vigilante yarn that doesn't spin enough action or comedy out of the viral video that apparently inspired it.
Viral video figure tagged Epic Beard Man seems to have been the model for Trejo's Frank Vega character.
The low budget indie outing got a simultaneous VOD and, through Samuel Goldwyn Films, limited theatrical release in the US last weekend. But its best chance of making money will probably come in the DVD market, where Twentieth Century Fox is distributing. Hispanic territories where Trejo is known will provide the best international prospects.
The viral video figure tagged Epic Beard Man seems to have been the model for Trejo's Frank Vega character. But whereas the video showed an old white man punching out a younger black guy the film plays it safer by making Frank a Latino war veteran who earns his Bad Ass moniker by dealing with a couple of white skinheads harassing an older black man on a Los Angeles bus.
Soon after the incident Frank's best friend is murdered and the reluctant vigilante begins to make use of his reputation as he attempts to track down the killer.
The murder gives the story a bit of intrigue and Frank's relationship with a pretty black neighbour (played by Joyful Drake from Get Him to the Greek) adds a May-December inter-racial romance. Frank's incongruous politeness is a running, mildly effective joke and there's some unthreatening racial banter between Frank and his neighbour's young son.
The performances and fight scenes - all pretty tame, except for one bloody encounter with a waste disposal unit - are sometimes unconvincing, though the story ends with a decent chase involving two city buses.
Writer-director Craig Moss, who has a couple of little-seen genre spoofs to his credit, lets the pace slacken too often for the film to build up much momentum.
Production companies: Silver Nitrate, Amber Lamps
US distributor: Samuel Goldwyn Films
International sales: SC Films International, www.scfilmsinternational.com
Producer: Ash R Shah
Executive producer: Ben Feingold
Co-producer: Jim Busfield
Cinematography: John Barr
Production designer: Russell M Jaeger
Editor: Jim Flynn
Costume design: Ariyela Wald-Cohain
Music: Todd Haberman
Website: www.facebook.com/heisbadass
Main cast: Danny Trejo, Charles S Dutton, Joyful Drake, Shalim Ortiz, Ron Perlman