Dir: Matthew Spradlin. US. 2012. 92mins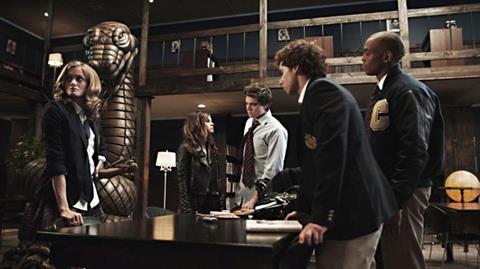 A tiresome attempt to update the 1980s high school comedy with 21st century attitude, Bad Kids Go To Hell traps the audience with six noxious teenagers serving a daylong detention that plays out very differently than The Breakfast Club did 27 years ago. This low-budget combination of thriller, horror and satire flaunts a smartass tone that proves deadening, and as the body count starts rising, viewer interest quickly begins dropping.
Bad Kids Go To Hell mistakes a snotty brashness for social commentary.
Opening December 7 in the US, this independent release lacks star power or marketing muscle to help gain a commercial foothold. Those with fond memories of The Breakfast Club may be slightly intrigued by the presence of that film's Judd Nelson in a supporting role here, but these Bad Kids will quickly be going to DVD and cable.
At an elite Texas private school, juvenile delinquent Matt Clark (Cameron Deane Stewart) reluctantly attends a Saturday detention with five other students, including the preppy, bitchy Tricia (Ali Faulkner) and the cool outsider Veronica (Augie Duke). But after hearing stories that the library where they're serving their detention is haunted, they are assaulted by an invisible force that murders them one by one. Can the apparition be stopped? And does the killing spree have anything to do with these particular students?
Based on a graphic novel co-created by director Matthew Spradlin, Bad Kids Go To Hell mistakes a snotty brashness for social commentary, mocking its mostly upper-crust characters as well as teen cultural phenomenon like Twilight. The film aspires to be as a wised-up, realistic portrait of high school — including explicit references to sex and drugs — but the uninvolving story and anaemic laughs don't provide any jolts or insights.
The performances are equally underwhelming, with the young, attractive cast members projecting an irony-infused toughness that's never that convincing. Faulkner and Duke at least have a little fun with their knowingly stereotypical roles, while Judd (as a humourless school administrator) mostly underplays, never winking at the audience because of his connection with The Breakfast Club, a movie whose setup Bad Kids emulates but does precious little to enhance.
Production companies: Spiderwood Studios, Charlie Uniform Tango
US distribution: BKGtH Productions
Worldwide sales: Barry Wernick, 1.972.503.5895
Producers: Barry Wernick, Brad Keller
Executive producers: Lori Madrid, James R. Hallam, David Genecov, Camrin Agin, Tommy G. Warren, Stuart Wernick
Screenplay: Barry Wernick and Matthew Spradlin, based on the graphic novel created by Barry Wernick and Matthew Spradlin
Cinematography: David Blood
Production design: Jason Hammond
Editor: Justin Wilson
Music: Brian Flores
Website: www.badkidsgotohell.com
Cast: Judd Nelson, Ben Browder, Cameron Deane Stewart, Ali Faulkner, Roger Edwards, Marc Donato, Augie Duke, Amanda Alch, Jeffrey Schmidt, Chanel Ryan