Dir: Lulu Jarmen. Canada-UK. 2011. 92mins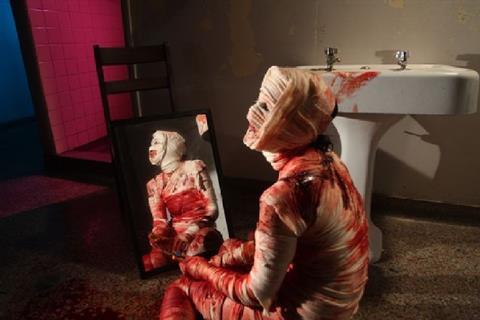 Bad Meat sets out to be a gross horror picture, trading in all manner of bodily fluid, but emerges as simply a mess. Evidently a troubled production, it lost its originally-set director Rob Schmidt (Wrong Turn) during pre-production, and screenwriter Paul Gerstenberger admitted in a Q&A after the world premiere at London's FrightFest Halloween All-Nighter that he'd no idea who wrote the incoherent frame story, while the absence of death scenes for several major characters suggests severe pruning in the edit with a possible extended cut on DVD down the line.
Mostly, it's a series of strung-together gag reflex scenes.
It might have been distantly inspired by the misanthropic contagion horror of Cabin Fever, but its sleazy approach is closer to the pus-filled Troma films of the 1980s and its general plot joins in with a run of films about young offenders being terrorised during rehabilitation programmes (Wilderness, See No Evil, Wild Country, Inbred etc).

Mummified in banadages and of indeterminate identity (and even sex), the sole survivor of a massacre at the Hardway Camp for troubled teenagers lies in a hospital bed, bloodily typing away at a computer keyboard for no apparent reason. In flashbacks, a group of mostly unsympathetic stereotype kids (a claustrophobic, a pyromaniac, a gangbanger wannabe, a goth who likes cutting up dogs, a possible lesbian) arrive at Camp Hardway in the woods to be re-educated.
However, the 'counsellors' are all bizarro sadists – the director is a Hitler-obsessed martinet (Mark Pellegrino) – who tyrannise the kids. When the eponymous bad meat gets in the stew, only the staff get to eat it: after vomiting profusely, the infected counsellors become maniacal cannibals. The fact that two of them were having kinky sex when the bug struck means they are dressed in fetish costumes with devil masks, but that doesn't make them much more fearsome as monsters.
The claustrophobe (Dave Franco) is sidelined in a locked outhouse, though he seems to be set up as the lead character, and the pyro (Elisabeth Harnois) keeps trying to rescue him – the nearest thing to a plot thread this manages. Mostly, it's a series of strung-together gag reflex scenes: puking perverts, a graphic dog dissection, amateur stomach-pumping, chewed body-parts, a ripped-off penis. The flashbacks just trail off, with characters still in play, and the final twist reveals nothing.

The performances are pitched too broadly for actual comedy, and the direction is too inept for horror or suspense. It still feels vaguely unfinished.
Production companies: Capitol Films, Jinga Films, Tiger Aspect Pictures

International sales: Jinga Films, www.jingafilms.com

Producers: Greg Benman, Lucinda Englehart, Phyllis Laing

Screenplay: Paul Gerstenberger

Cinematography: Joe DeSalvo

Editor: Frank Reynolds

Main cast: Mark Pellegrino, Dave Franco, Elisabeth Harnois, Jessica Parker Kennedy, Monique Ganderton, Tahj Mowry