Dir/scr: David E Talbert. US. 2013. 97mins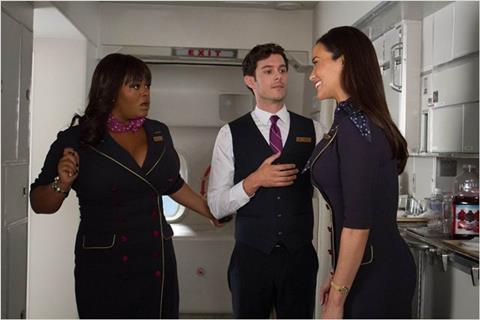 Already well known to black American theatregoers, prolific playwright/novelist David E Talbert makes a bid for the black movie audience with Baggage Claim, a wildly contrived but pleasantly frothy romcom about a youngish single woman on an urgent search for Mr Right. Though it may not perform like the output of Tyler Perry - with whom Talbert is sometimes compared - this lightweight romance could still find a decent female audience, in the US if not internationally.
Talbert gives the film and warm look and a breezy pace that smooth over the script's shortcomings.
The Fox Searchlight release screened this week at the Urbanworld festival in New York and opens wide in the US on September 27, a bit early for its holiday season setting but ahead of a number of other upcoming films aimed at the black audience. Given the film's populist bent and lack of big star names, international pickings look likely to be slim, as they often are for black oriented comedies.
As well as directing, Talbert (whose previous feature was 2008 comedy First Sunday) adapted his own 2003 novel about Montana Moore (played by Paula Patton, from Precious and 2 Guns), a vivacious but still single flight attendant. To stop her mother's nagging in the run up to her younger sister's wedding, Montana resolves to find a marriage prospect in the next 30 days by tracking down some of her old flames.
The stock characters helping in the search include a gay male pal (Adam Brody, from Seeking A Friend for the End of the World), a sassy female friend (Jill Scott, from Why Did I Get Married?) and a neighbour and former schoolmate (Antwone Fisher's Derek Luke). Supporting cast members playing the one-dimensional exes include Taye Diggs, Tremaine Neverson and Djimon Hounsou.
The material feels a bit thin even for a 97-minute running time, but Talbert gives the film and warm look and a breezy pace that smooth over the script's shortcomings. And Patton makes an appealing and sympathetic lead.
Production companies: Fox Searchlight, 260 Degrees, Sneak Preview Entertainment
International distribution: Fox Searchlight
Producers: Steven J Wolfe, David E Talbert
Executive producer: Lyn Sisson-Talbert
Cinematography: Anastas Michos
Editor: Troy Takaki
Production designer: Dina Lipton
Music: Aaron Zigman
Costume design: Maya Lieberman
Website: www.foxsearchlight.com/baggageclaim
Main cast: Paula Patton, Derek Luke, Taye Diggs, Jill Scott, Boris Kodjoe, Tremaine Neverson, Adam Brody