Shooting wrapped last week on Veit Helmer's fourth feature Baikonur in a 'Zero-G' Airbus A300 at the French Test Flight Centre in Bordeaux.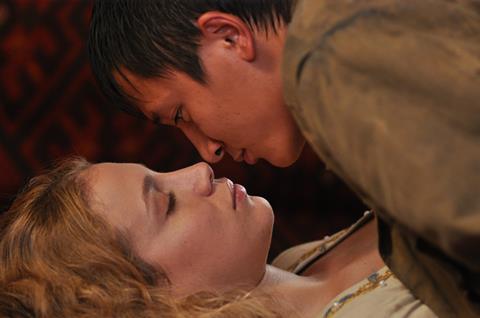 Synopsis: Love blossoms between a French space tourist, who lands in the steppes of Kazakhstan after her return from orbit, and the local villager Iskander, known as Gagarin, who takes her back to his jurta. Suffering from memory loss, she thinks she is his wife and all kinds of misunderstandings arise.
Director: Veit Helmer
Writer: Sergei Ashkenazy
Producers: Veit Helmer for Veit Helmer Filmproduktion, co-producing with Anna Katchko for Tandem Productions, Sergei Selianov for CTB Film Production and Gulnara Sarsenova for Eurasia Film
Cast: Marie de Villepin, Alexander Asochakov
Budget: € 2m
Financing: Medienboard Berlin-Brandenburg, MEDIA, German Federal Film Fund (DFFF), German State Minister for Culture and Meedia (BKM), German Federal Film Board (FFA), eQuinoxe, and the Nipkow Programme
Distributor: X Verleih (Germany)
Language: English, Russian
Locations: Kazakhstan, Moscow and Baikonur
Shoot dates: September – November 2010
Status: Post Production
Release date: 2011
Newspaper clippings and pictures of cosmonauts had always held a fascination for film director Veit Helmer, but the idea of making a film set in the Baikonaur space station didn't occur to him until he met the Berlin-based Russian writer-director Sergei Ashkenazy in 2007.
During their conversation about a possible collaboration, it turned out that Ashkenazy was also interested in space exploration - and the seeds for Helmer's fourth feature film after Tuvalu, Gate To Heaven and Absurdistan were sown.
The screenplay was developed with the support of a workshop of the eQuinoxe programme and a grant from the Berlin-based Nipkow Programm which allowed Helmer and Ashkenazy to travel to Kazakhstan in May 2009 to visit the space station in Baikonur as tourists and witness a rocket launch to the International Space Station (ISS).
Structured as a co-production with leading Russian producer Sergei Selianov (Mongol) and Almaty-based Gulnara Sarsenova (Tulpan), Baikonur is described by producer-director Helmer as "a love story between two very contrasting worlds, the world of space tourism and the world of this remote village in the steppe. The connection here with my other films is that I am again more interested in images than scenes of dialogue. At the same time, this film is not so burlesque as Absurdistan and rather more longing than Tuvalu."
As in his previous films, Helmer travelled the globe to find the right actors for the two leads. "I hadn't originally planned for the character of Julie to be French, and the young Russian actor Alexander Asochakov was brought to my attention by my executive producer Anna Katchko," he recalls.
In fact, the casting of top model Marie de Villepin and the 19-year-old Asochakov (in his first film role) mirrors the clash of cultures in the film. "Parallel to the film shoot, I have produced a 'making of' about the two actors," Helmer explains. "Marie as the 'new face of Givenchy' and daughter of France's former prime-minister Dominique de Villepin, and Aleksandr coming from a village in Siberia where there's no internet. Fiction and reality are very close here."
Meanwhile, Helmer can now claim to bethe first filmmaker ever to be allowed to shoot a feature film at the Baikonur space station in Kazakhstan. "It was always a dream of mine", he says. "Although the shooting permit from the Russian space authority Roskosmos had been given early on, we only received the final permission to shoot there after checks by the secret service just 14 days beforehand!"
With the support of the German Aerospace Center DLR, the production then moved to Bordeaux in France at the end of November to spend two days filming in Novespace's 'Zero G' Airbus 300 simulating scenes of Julie experiencing weightlessness in the International Space Station (ISS).
What's Next:Halola, an unexpected love adventure set in Tajikistan, to be directed by Bakhtyar Khudojnazarov and produced by Veit Helmer in summer 2011. The project was presented at the Open Doors co-production market in Locarno last August.