Dir: Veit Helmer. Germany-Russia-Kazakhstan. 2012. 94mins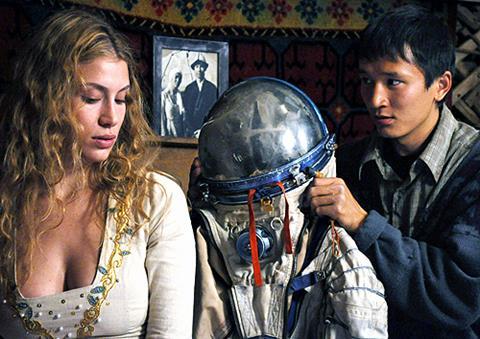 A romance about the possible passing of the space age, this unusual co-production has a fantastic location - the once-secret Soviet space city of Baikonur, now the only active space launch facility in the world, in present-day Kazakhstan - and a unique milieu for its cross-cultural love story, though those still actively dreaming of the stars might find German writer-director Veit Helmer's happiness-is-in-your-own-backyard conclusion melancholy rather than cheering.
This is a slender fable, pitting the aetherial against the earthy, but genuinely charming and not without bite.
Kazakh villager Iskander (Alexander Asochakov), nicknamed 'Gagarin' for his space enthusiasms, keeps track of launches and trajectories via ham radio and mental arithmetic so that his wily community can scavenge saleable scrap metal which falls to Earth as the intermediary stages of rockets drop from a great height.
Though his own parents were killed by such debris, Gagarin's yurt is augmented by rocket parts and his dreams of leaving Earth's atmosphere are incarnated in the fantasy figure of blonde Julie Mahé (Marie de Villepin), a French space tourist who is paying twenty million dollars for a trip to the international space station. Less enthusiastic about space rockets (and Julie) is Nazira (Sitora Farmonova), a local wild girl whose beauty is usually concealed by a coating of camel ordure and who nurtures a longstanding crush on a hero who is always looking higher than her eyes.
When Julie's capsule goes astray on re-entry, Gagarin finds the astronaut, who has lost her memory in the crash, and prises her out of her spaceship and unpeels her space-suit so he can dress her in his mother's best dress. Gagarin is reluctant to hand Julie over to would-be rescuers, though he refuses several offers from village elders who want to buy her as a wife.
A romance develops, though Julie's memory returns at an extraordinarily inconvenient, passion-killing moment and the fall-out is awkward. Co-opted into the space program as a face-saving gesture, Gagarin finds himself doing menial work in Baikonur, but volunteers for gruelling experiments - usually a punishment detail - in order to reconnect with his sky angel.
Space buffs will relate to Gagarin's enthusiasm, as conveyed by Asochakov's doleful, affecting performance, but relish the behind-the-scenes look at Baikonur, which takes in several genuine space launches and some interesting ground-tests. A sequence seemingly taking place in orbit is surreally revealed by the sudden presence of bubbles, to be in a pool used to simulate weightlessness.
Wary of international cinema after Borat, the Kazakh authorities were evidently persuaded to support this effort by a strategic decision to cast the favourite grand-daughter of the President in a small, key role (which the little girl aces) in the climax. Keeping with the theme of casting relations of political figures, Marie de Villepin - daughter of France's former Prime Minister Dominique de Villepin - is a vision of loveliness in her first major role, and has wry, reticent but sexy presence which should land her more leads in international films.
Full of authentic detail - like the market for stamps franked in space - this is a slender fable, pitting the aetherial against the earthy, but genuinely charming and not without bite. Bosnian composer Goran Bregovic, a collaborator with Emir Kusturica (Underground) and Patrice Chereau (La Reine Margot) who also worked on Helmer's Tuvalu, contributes a memorable, evocative music score.
Production companies: Veit Helmer Filmproduktion, Tandem Pictures, Eurasia
Film Production, CTB Film Company, Rundfunk Berlin-Brandenberg, Bayerischer Rundfunk, ARTE
International sales: M-Appeal, www.m-appeal.com
Producer: Veit Helmer
Screenplay: Veit Helmer, Sergej Ashkenazy
Cinematography: Kolya Kano
Editor: Vincent Assmann
Production designers: Sonja Winzenreid
Music: Goran Bregovic
Website: www.Baikonur.com
Main cast: Alexander Asochakov, Marie de Villepin, Sitora Farmanova, Erbulat Toguzakov