Dirs: Christian Holten Bonke & Andreas Koefoed. Denmark. 2011. 85mins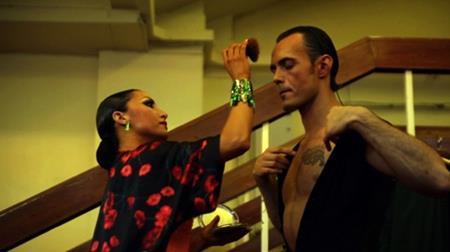 The glam world of ballroom dancing – now so prominent on television screens through the joys of Strictly Come Dancing and other dance programmes – is delightfully examined in Ballroom Dancer, a beautifully made Danish documentary following a former world champion dancer attempting to re-establish his position on the perfectly polished boards.
The film is beautifully shot and elegantly constructed.
The film, which opened Copenhagen documentary festival CPH:DOX, traces Vyacheslav ' Slavik' Kryklyvyy, a former world champion in Latin American dancing as he and a new partner try and forge a relationship that will transport them into top spot. The film should appeal to broadcasters, plus has the cinematic style to work as a theatrical offering.
The film, directed by Christian Holten Bonke and Andreas Koefoed, opens with footage of Slavik winning the top prize with his then dance partner Joanna Leunis. Fast forward 10 years, and after a hip injury and some time out of the spotlight, he is practicing with new young partner Anna Melnikova, a recent amateur world champion and also his girlfriend.
Slavik is a fascinating character. Driven, tactless, temperamental, forthright and blessed (or perhaps burdened) with such dogged determination that Anna finds it increasingly impossible to live up to his passion to succeed, with their professional and personal relationship stretched to breaking. The film follows their training and competitive dancing from Moscow via Blackpool in the UK and onto Hong Kong where there is a final – and rather moving – showdown between the pair.
The film is beautifully shot and elegantly constructed as it weaves around the dancers' moves as well as their personal story, and in Slavik the filmmakers have come across a charismatic, moody and resolute man who is ready to try and succeed at all costs. At times it seems incongruous that Slavik and Anna speak to each other in English the majority of the time, but their fraught, fractured and feisty relationship is convincing, even when on the dance floor they move, gyrate and dance as if entwined.
Production companies: New Danish Screen, Nordisk Film OG TV Fund
Sales contact: DR International Sales, www.dr.dk
Producers: Jakob Nordenhof Jenck
Executive producers: Sigrid Dyekjaer, Eva Mulvad, Phie Ambo, Mikala Krogh, Pernille Rose Gronkjaer
Cinematography: Christian Holten Bonke, Andreas Koefoed
Editors: Asa Mossberg, Marion Tuor
Music: Magnus Jarlbo
With: Vyacheslav ' Slavik' Kryklyvyy, Anna Melnikova