Dir: Jonathan Liebesman. US. 2011. 116mins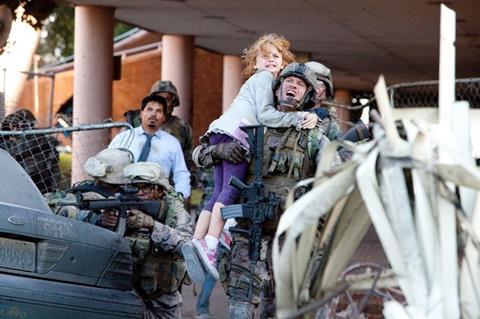 The action is loud and nearly constant in big budget alien invasion yarn Battle: Los Angeles – but real thrills and genuine drama are in dangerously short supply. Youngish action fans should give the extraterrestrials vs humans shootout a good start at the box office after which this Sony release may run out of ammo pretty quickly.
There are a few taut set pieces – involving what one characters describes as "some real John Wayne shit"
Getting young moviegoers in early will be the goal when Sony opens the film on March 11 in the US and the UK (with ratings of PG-13 and 12A respectively). Takings should be strong in other international markets – where alien invasion films often perform well – though matching the worldwide takes of starrier outings such as War Of The Worlds isn't likely.
Beginning just before a huge alien force attacks coastal cities around the world, causing instant devastation and putting human armies on the defensive, the story follows a platoon of US Marines sent to rescue a group of civilians stranded in Santa Monica by the alien advance. Among the soldiers are a soon-to-retire staff sergeant with a questionable combat record (played by Dark Knight good/bad guy Aaron Eckhart) and a savvy radar expert (Avatar's Michelle Rodriguez).
South African director Jonathan Liebesman (Texas Chainsaw Massacre: The Beginning) stages and shoots the film like a gritty urban war movie with eight foot ET's in place of the usual enemy soldiers. Almost every scene is shot with hand held cameras, creating a documentary-style sense of immediacy.
There are a few taut set pieces – involving what one characters describes as "some real John Wayne shit" – but there's little of the awe-inducing action or fist-pumping fun delivered by the most successful examples of the alien invasion genre (the aliens themselves are rather nondescript and most of their ships fairly small). And there's certainly none of the sly humour or social comment offered by recent sci-fi films such as District 9.
The brief interludes of drama and character interaction are marred by some woefully hackneyed dialogue.
Production companies: Columbia Pictures, Original Film, Relativity Media
International distributor: Sony Pictures
Producers: Neal H Moritz, Ori Marmur
Executive producers: Jeffrey Chernov, David Greenblatt
Screenplay: Chris Bertolini
Cinematography: Lukas Ettlin
Production designer: Peter Wenham
Editor: Christian Wagner
Music: Brian Tyler
Website: www.battlela.com
Main cast: Aaron Eckhart, Michelle Rodriguez, Ramon Rodriguez, Bridget Moynahan, Ne-Yo, Michael Pena