Universal's action sci-fi commandeers top spot with an estimated $6.1m (£3.9m) haul.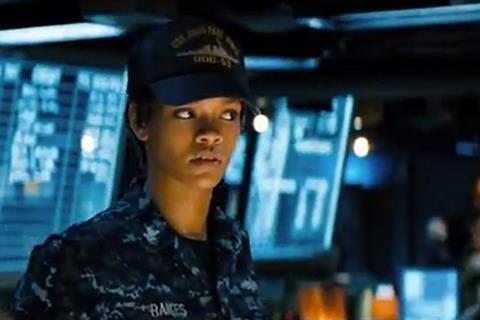 Bolstered by £1.5m from two days of previews, Battleship has debuted top of the UK box office.
Universal's blockbuster, based on the classic Hasbro strategy game, took an estimated $6.1m (£3.9m) from its 496 sites at a decent average of $12,298 (£7,765), beating the debuts of recent blockbusters Wrath Of The Titans and John Carter.
However, its opening is less than half the debut of Transformers which grossed $13.8m (£8.7m) from fewer sites (456) in July 2007.
Dropping a place to second, but falling just 35% in its second week, was Fox's 3D re-release of Titanic. James Cameron's epic sailed its way to a further $2.9m (£1.8m) to stand at an impressive $12.8m (£8.1m) after ten days in play.
Collectively, Titanic is now the second biggest film of all time at the UK box office, meaning Cameron has a one-two on the all-time list alongside Avatar's extraordinary $148.9m (£94m).
Lionsgate's horror The Cabin In The Woods enjoyed an excellent debut as it charted third on $2.5m (£1.6m). The opening continues the strong streak for horrors in the UK this year following the performances of The Woman In Black and The Devil Inside.
Narrowly behind in fourth after a solid holdover in its third week with just a 27% fall was Sony's The Pirates! In An Adventure With Scientists! Aardman's latest animation added an estimated $2.5m (£1.6m) to its bounty and now stands at $20.7m (£13.0m).
Lionsgate's The Hunger Games rounded off this week's top five. The adaptation of Suzanne Collins' best-selling novel has now amassed $30.8m (£19.4m) after a $2.4m (£1.5m) weekend and is the second best performer at the UK box office this year, behind The Woman In Black.
This week sees saturation releases for Entertainment's suspense thriller Gone and sci-fi Lockout, alongside Lionsgate's romantic comedy Salmon Fishing In The Yemen. Kaleidoscope's horror Elfie Hopkins and Universal's documentary Marley are among the films receiving a limited release.
For more of Screen's box office news, analysis and charts, visit our new Box Office section by clicking the icon below.