2009 has been a landmark year for animation and, as if to reflect that, the feature animation Oscar category is swelling to the full five nominations for the first time since 2002.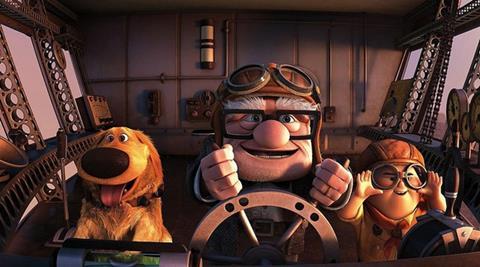 It has been a bumper year for animated feature films, both creatively and at the box office. Over the summer, 20th Century Fox's sequel Ice Age: Dawn Of The Dinosaurs from Blue Sky Studios overtook The Lion King to become the second-biggest animated worldwide grosser in history after Shrek 2, with a staggering total figure of $878.6m - $682m of which came from international markets. It is now the 16th biggest hit of all time.

Meanwhile in May, Pete Docter's Up from Pixar became the first animated film ever to open the Cannes film festival, before going on to become the year's animated champ at the US box office with $293m racked up in grosses.

DreamWorks Animation had only one film in 2009 in Monsters Vs Aliens but that was enough to take $380m worldwide, and, after a couple of so-so performers in Open Season and Surf's Up, Sony Pictures Feature Animation had its first bona fide hit in Cloudy With A Chance Of Meatballs, which so far has taken more than $120m in the domestic market alone.

And Universal's specialised label Focus Features managed to come up with twoanimated winners: Henry Selick'sCoraline, which it distributed on behalf of Laika Entertainment, took a healthy $75.3m in February, while Shane Acker's post-apocalyptic 9 grossed more than $30m later in the year.
Disney, meanwhile, had both Robert Zemeckis' latest performance-capture effort Disney's A Christmas Carol and its 2D animated The Princess And The Frog to unleash in the holiday season.
Critics continue to reserve the lion's share of their affection for Pixar.
Pete Docter's Up served to perpetuate Pixar's historic run of masterpieces, and was arguably the company's best-received film to date. Docter's story of an elderly widower who learns to appreciate life on an adventure in South America moved adult audiences while delighting kids with its humour and action.
Pixar has won four of the eight animated feature Oscars awarded to date but it has been beaten on two occasions - Docter's first film Monsters, Inc lost out to Shrek in 2001 and John Lasseter's Cars lost to Happy Feet in 2006.
Up will be a hard act to beat in 2009, and - assuming it takes one of the nomination slots - that leaves four films to compete with it. This year, because the volume of animated films released in Los Angeles County exceeded
16 (the final confirmed number is 20), the category widens to five nominations from the traditional three. Since the category started in 2001, the five-nomination field has only been triggered once - in 2002.
Ironically, Up's biggest competition will come from The Princess And The Frog from Walt Disney Animation Studios, a sister company to Pixar and run by Pixar's chief creative officer Lasseter. The film is a lively and entertaining 2D affair harking back to the great Disney revival of the late 1980s and early 1990s, when The Little Mermaid and Beauty And The Beast transformed animation.
Disney's third shot comes with Oscar-winner Hayao Miyazaki and his latest, Ponyo, a Japanese blockbuster in 2008 which opened in a US version in August. Although not the box-office success Lasseter was hoping it to be, Ponyo was as distinctive and pleasing as Miyazaki's other films, and it could also snag one of the final five slots.
Two stop-motion films and critical favourites - Wes Anderson'sFantastic Mr Fox and Henry Selick'sCoraline - are also in with a good chance, and Adam Elliot's Sundance opener, the mordant adult claymation film Mary And Max could be a left-field contender.
CG-animated hits Monsters Vs Aliens, Cloudy With A Chance Of Meatballs and Disney's A Christmas Carol will fuel the competition further, and that competition will be fierce: with 20 films in the running, each film has a one in four shot of snaring a nomination.
ELIGIBLE ANIMATED RELEASES
US 2009
US release date/title (US distributor)
US TOP 10 ANIMATED FILMS OF THE YEAR