Dir: Shawn Ku. US. 2010. 100mins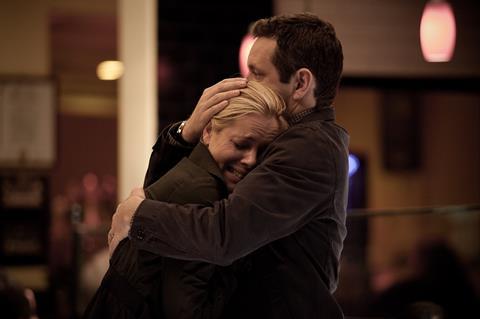 Fortunately, few parents have had to endure the double whammy that befalls the Carrolls. Not only do they lose their only child in a high-school massacre, he turns out to have been the perpetrator. This is not at all like Gus van Sant's Elephant, with its depiction of the bloody act, nor does it have much in common with Michael Moore's Bowling for Columbine, a documentary that attempts to explain that horrific incident in the context of America's propensity for violence.
Maria Bello and an ordinary-looking Michael Sheen, two of the most proficient actors working today, are extraordinary as Kate and Bill Carroll.
The killings of more than 20 students and faculty occur 10 minutes into the film, and the information is relayed by TV anchors—much as the rest of us learn about such inexplicable events. The remainder of Beautiful Boy is a thorough examination of a marriage that has allowed routine to suppress potential ruptures, which the shocking news lifts to the surface, and the ways the couple handles perceived culpability in the face of nearly incomprehensible circumstances.
Will audiences be willing to go along for this emotionally tumultuous ride? It is exhausting, even if an unadorned Maria Bello and an ordinary-looking Michael Sheen, two of the most proficient actors working today, are extraordinary as Kate and Bill Carroll. Upper-middle-class Angelenos, they are transformed overnight from creatures of mundane routine to an ostracised duo running from gawkers and the media. They have to deal not only with the overwhelming guilt feelings, but with the push and pull within their relationship, a strain that brings them closer together (romantic sex in a cheap motel) and, at the same time, carries them further apart (shrieking fights, a separation).
In spite of the bravura performances, which cross over occasionally into scenery chewing, and an optimistic resolution, the screenplay and dialogue lack the bite of, say, Who's Afraid of Virginia Wolfe, the pure outrageousness of which was a draw. Awards consideration for both Bello and Sheen, in what is essentially a chamber play, is a given, but box-office earnings are less certain, both in the American and foreign markets. That said, prestigious prizes could give the enterprise a second life.
A former Broadway actor himself, director Ku, in his first feature, provides his actors with substantial dramatic space, which is mostly a plus but, after a few too many breakdowns, something of a minus. The leads have a lot less physical space, however. Cinematographer Fimognari's shaky camera frequently follows them, and stays very close in. There is a certain beauty to this approach—otherwise unenticing suburban backdrops and house interiors become gorgeously abstracted—but, as the harrowing drama progresses, it becomes apparent that Ku is covering up with formal wizardry what might have been more effective as a stage production. Even the supporting players—her brother's family, his boss, the motel clerk—are fairly superfluous.
Ku uses sound bridges effectively to move the action along, but the opening sequence of home movies from their son's childhood is so clichéd that it signals something derivative to come. Yet as Kate's reaction moves from denial (she is reading Tolkien soon after they learn what has transpired) to a more mature understanding of what has transpired than Bill's, and as Bill's behaviour shifts from containment and stoicism to tantrum and self-destruction, the power of their interpretations raises the level of the film significantly. Morris's orchestral score, with its tinkly piano, is a fine, unobtrusive accompaniment to the overly self-conscious visuals.
Production companies: Lightning Entertainment, Gold Rush Entertainment, First Point Entertainment, Braeburn Entertainment
International sales: Lightning Entertainment, www.lightningentertainmentgroup.com
Domestic sales: Paradigm Agency, www.paradigmagency.com
Producers: Lee Clay, Eric Gozlan
Executive producers: Mark Moran, Richard Gabai, Richard Iott
Screenplay: Michael Armbruster, Shawn Ku
Cinematography: Michael Rimognari
Production designer: Gabor Norman
Editor: Chad Galster
Music: Trevor Morris
Website: www.beautifulboythemovie.com
Main cast: Michael Sheen, Maria Bello, Alan Tudyk, Moon Bloodgood, Austin Nichols, Kyle Gallner