Dir. Jaime Rosales. Spain-France. 2014. 102mins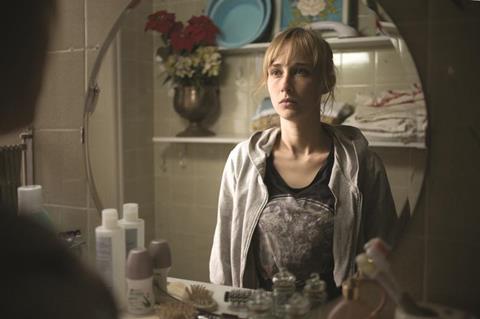 As slices of life go, Jaime Rosales' Beautiful Youth (Hermosa Juventud) hits pretty close to home, but while it may be accurate in essence, it is also bland, predictable and not particularly engrossing. It could, of course, be argued that life itself can be tedious and repetitive, but then film dramas are not supposed to copy reality, rather interpret it and there is nothing of the kind happening here.
The final result looks pretty much like a documentary in which the authenticity of the background often outshines the action in the forefront.
Dragging its feet slowly and offering well-intentioned but often indifferent performances, it may have a lot to say about the effect of the economic crisis on Spain's youth but there isn't much in it that hasn't been encountered elsewhere.
Natalia (Ingrid Garcia-Jonsson) and Carlos (Carlos Rodriguez) are a handsome young couple in their early twenties. He moonlights from one job to another and takes care of his invalid mother (Patricia Mendy), she lives at home with her own meddling parent, Dolores (Imma Nieto), both youngsters are free and careless, even do a porno film for fun and money, and have no worries in the world until she falls pregnant.
Natalia's mom tells her she'd better go for an abortion, her estranged father, German (Miguel Guardiola) believes she should be the only one to decide, and once Natalia chooses to give birth that's when trouble starts. The couple has no home, no money and no real work, Dolores has to host them most of the time. Carlos' attempts to land a job, though they don't seem very strenuous, are all failures, Natalia is close to nervous breakdown from too many sleepless nights tending to the baby, the love affair is evaporating in fumes of bitterness and disappointment, and then Dolores, the only one to make a living for herself, tells them she can't feed that many mouths any longer.
At this point Natalia decides to leave the baby behind and go to Germany to look for work, which, by the time the film ends, she hasn't found yet.
In all fairness, Natalia and Carlos are a likeable couple of kids, but not particularly smart, enterprising or energetic, just the kind to wait patiently for fortune to knock at their door, and indeed there is a dialogue line in the film saying that much. Their passive attitude to life in general may very well be, in the eyes of director Rosales, one of the features of today's youth, but unless he can muster more interest in them and in what makes them tick, it's not very likely that others will.
Shot partly in 16 mm with additional footage provided by the actors themselves, using their own amateur digital equipment, the final result looks pretty much like a documentary in which the authenticity of the background often outshines the action in the forefront. Out of the cast, Garcia-Jonsson's pure, luminous face stands out and her one scene with Imma Nieto's Dolores, in which the mother tries to console her distraught daughter, indicates that both are capable of much more than they are required to do here.
Production companies: Fresdeval Films, Wanda Vision, Les Productions Balthazar
Producers: Jaime Rosales, Jose Maria Rosales, Jerome Dopffer
International sales: ndm, sales@mantarraya.com
Screenplay: Jaime Rosales, Enric Rufas
Cinematography: Pau Esteve Birba
Editor: Lucia Casal
Production designer: Victoria Paz Alvarez
Main cast: Ingrid Garcia-Jonsson, Carlos Rodriguez, Imma Nieto, Fernando Barona, Juanma Calderon, Patricia Mendy, Miguel Guardiola