Dir/Scr: Mike Mills. USA.  2010. 104mins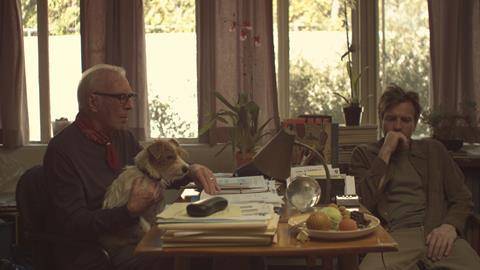 A lonely, grief-stricken man strives to find reasons to be cheerful in Beginners, a wistful, understated romantic drama from Thumbsucker director Mike Mills. The film's delicate tone and whimsical nature may become a little precious for some tastes but the film unfolds with enough charm and feeling to entrance sophisticated audiences with a yearning for quirky, thoughtful American indie fare. A charismatic star cast should be a major selling point for distributors.
Ewan McGregor gives a carefully nuanced and entirely convincing performance as the vulnerable Oliver.
Unfolding with a calm composure that reflects the sorrow of the lead character, Beginners blends together a love story, a reflection on the ties that bind the generations and a history lesson on changing mores in American society. It is a tall order that Mike Mills generally achieves with fluency and warm good humour.
Ewan McGregor stars as Oliver, a talented graphic designer whose elderly father Hal (Christopher Plummer) has recently died from cancer.At the age of 75, after 44 years of marriage, the widowed Hal declared himself to be gay and enthusiastically embraced the life he had denied himself for so long. Flashbacks to his final years depict the uncomplicated devotion of his younger boyfriend Andy (Goran Visnjic). Scenes underlining the closeness to Oliver are interspersed with Oliver's tentative attempts to build an honest relationship with Anna (Melanie Laurent), a French actress that he meets at a party. The lessons of the past might just be enough to convince Oliver that it is never too late to pursue happiness.
The romantic elements of Beginners have the feel of early Woody Allen as Oliver and Anna start to explore the depth of their commitment in earnest conversations and carefree moments as they go rollerskating along a hotel corridor. Oliver's constant companion is his late father's Jack Russell dog whose thoughts intermittently appear as subtitles on screen.
Whimsicality runs through the film with Oliver taking to the streets of Los Angeles as a graffiti artist and Amelie-style montages reflecting the President, fashions and feelings of a particular moment in time whether that was the marriage of Oliver's parents in 1955 or 2003 when the film is set. There is also a capsule account of American gay history with references to the assassination of Harvey Milk, the creator of the rainbow flag and the pioneers of gay liberation. Mills unites those disparate ingredients into a coherent and engaging piece.
Ewan McGregor gives a carefully nuanced and entirely convincing performance as the vulnerable Oliver, conveying the character's innate compassion through expressive eyes that gaze lovingly at his dying father or stare at the Jack Russell that appears to be his one true friend. You believe that Oliver has always been a withdrawn observer of life torn between joining the party or allowing the parade to pass him by.
McGregor also has real chemistry with Melanie Laurent who bewitches like some nouvelle vague discovery of the 1960s. Christopher Plummer is just dandy as Hal playing him with great charm, spirit and intelligence. It is a cherishable performance etched in truth and shaped with the lightest of touches and deserves some awards consideration.
Production companies: Olympus Pictures, Parts & Labor
International sales: Olympus Pictures
Producers: Leslie Urdang, Dean Vanech, Miranda de Pencier, Lars Knudsen, Jay Van Hoy
Cinematography: Kasper Tuxen
Production designer: Shane Valentino
Editor: Olivier Bugge Coutte
Music: Roger Neill, Dave Palmer, Brian Reitzell
Main cast: Ewan McGregor, Christopher Plummer, Melanie Laurent, Goran Visnjic