Dirs: Renaud Barret & Florent de la Tullaye. France. 2010. 86mins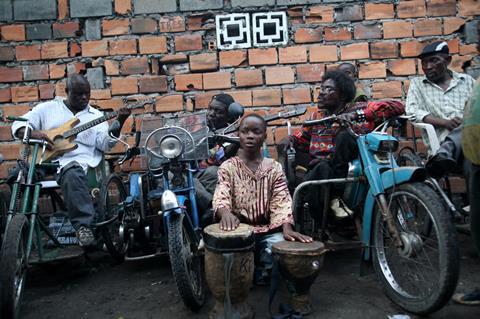 This infectiously sympathetic documentary about a Congolese paraplegic band going from African boondocks all the way to European rock concerts, chosen as the opener of this year's Directors' Fortnight at Cannes, was impressively shot over a period of five years, mostly in Congo's Kinshasa with the climactic sequences celebrating their international recognition.
Despite all the appalling visions of Kinshasa slum life, there is some kind of powerful enthusiasm and optimism.
It focuses on the effort of the band's leader, Leon Likabu - better known as Ricky - to keep his players together and even bring in a couple of youthful additions, despite the miserable life they all shared in the slums of Kinshasa.
An ideal TV item to accompany the frequent tours of the band, already booked for concerts over the world, from Athens to Montreal and Japan, it is also a solid feelgood item that would fit into the programme of any festival.
The documentary first focuses on band Benda Bilili in 2004 on the streets of Kinshasa, the only real home the performers ever knew. They are surrounded by street urchins who have willingly accepted that the only way to make a living is "combing" … petty thievery in their slang.
While the band rehearses and plays in the shadow of a tree or in front of the animals in the zoo, they live in dismal improvised hostels for the disabled and their songs are an extension of their own lives. Ricky is trying to keep them all together and instill some kind of discipline in their music, and to persuade them, as Coco Yakula, the guitarist, puts it early on, that "one day we will be the most famous disabled men in Africa".
Hobbling on crutches, riding self-customised tricycles pushed or dragged up on sidewalks by the kids who accompany them, they make a living of sorts playing at night at the exit of one fashionable restaurant or another, hoping the well-fed customers will not ignore them on their way out.
The band were set to record at a studio in 2005, but when a fire breaks out at their hostel they are deprived of a roof over their heads and forced to find more immediate means of survival.
One year later, under the auspices of a recording company, Ricky, who was selling cigarettes for a living, regroups his old team and they proceed to record their music, this time not in a studio but where they always play it, in the open. The release of a record, its success and the first stages of the European tour offer the more predictable and less surprising section, though their final performances on festival stages in France and Norway are truly inspiring.
But beyond the impressive quality of the music, what co-directors Barret (a former advertising executive) and de la Tullaye (once a photojournalist) manage to convey, is the background in which this music blossomed. Despite all the appalling visions of Kinshasa slum life, there is some kind of powerful enthusiasm and optimism that keeps them going even in the worst circumstances.
What will success do to Benda Bilili, now that success risks cutting them off the roots which provided all their high spirits and inspiration, is a question left open at the end. Maybe the subject for another documentary.

Production companies: Screenrunner, La Belle Kinoise
Producers: Yves Chanvillard, Nadim Cheikhrouha, Renaud Barret, Florent de la Tullaye
International sales: Funny Balloons, +33 6 74493340
Screenplay-cinematography: Renaud Barret, Florent de la Tullaye
Editor: Jean-Christophe Hym
Music: Benda Bilili
Main cast: Leon "Ricky" Likabu, Roger Landu, Coco Yakala, Theo "Coude"Nstuvuidi Claude Kinunu Montana, Paulin "Cavalier" Kiara-Maigi