The full line-up of world premieres in Special Galas at the 66th Berlin Film Festival with details on each title including sales contacts.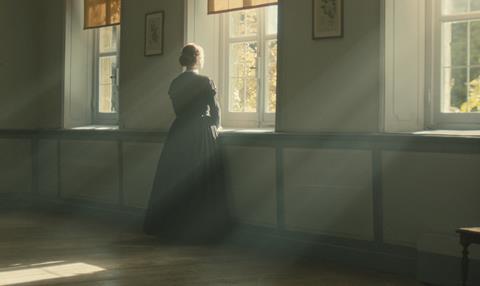 A Quiet Passion (UK-Bel)
Dir Terence Davies
Cynthia Nixon stars as the acclaimed US modernist poet Emily Dickinson in Davies' drama, alongside Jennifer Ehle and Keith Carradine. The film is produced by Sol Papadopoulos and Roy Boulter of the UK's Hurricane Films with Peter de Maegd and Tom Hameeuw of Belgium's Potemkino. Metrodome has UK rights.
Contact Double Dutch International info@doubledutchmedia.ca
A Serious Game (Swe-Den-Nor)
Dir Pernilla August
An adaptation of Swedish author Hjalmar Söderberg's 1912 novel, A Serious Game is the story of a young couple who fall madly in love but marry other people. Directed by actress-filmmaker August, the period romantic drama marks her second feature following 2010's Beyond. A Serious Game stars Sverrir Gudnason, Karin Franz Körlof, Michael Nyqvist and Mikkel Boe Folsgaard. B-Reel Films produces.
Contact TrustNordisk info@trustnordisk.com
Creepy (Japan)
Dir Kiyoshi Kurosawa
The latest film from Tokyo Sonata director Kurosawa is a suspense thriller adapted from an award-winning novel about a missing family. Hidetoshi Nishijima plays a former detective who suspects his creepy neighbour may be linked to a cold case when the neighbour's teen daughter reveals he is not her father. Last year, Kurosawa won Un Certain Regard's directing prize in Cannes for his romantic ghost story Journey To The Shore.
Contact Asmik Ace intl@asmik-ace.co.jp
National Bird (US)
Dir Sonia Kennebeck
Journalist and documentary film-maker Kennebeck turns her camera on the US's controversial drone programme. She talks to veterans and survivors in Afghanistan about the escalating drone war sanctioned by president Barack Obama. Wim Wenders and Errol Morris are executive producers on the film. Submarine Entertainment has US rights.
Contact ro*co films international cristine@rocofilms.com
The Seasons In Quincy: Four Portraits Of John Berger (UK)
Dirs Colin MacCabe, Christopher Roth, Bartek Dziadosz, Tilda Swinton
Produced through Birkbeck University's Derek Jarman Lab, this feature documentary portrays John Berger, the UK writer, art critic, painter and poet whose novel G. won the 1972 Booker Prize. The film is divided into four chapters, each focusing on a different aspect of his life and work.
Contact Derek Jarman Lab derekjarmanlab@bbk.ac.uk
Also screening in Berlinale Special Galas
Miles Ahead (US) Dir Don Cheadle
The Music Of Strangers: Yo-Yo Ma And The Silk Road Ensemble (US) Dir Morgan Neville
Where To Invade Next (US) Dir Michael Moore