Hollywood's pre-eminent renaissance man — Columbia University professor, former Focus Features CEO and three-time Oscar nominee — is in Berlin for the European premiere of his directorial debut, Indignation.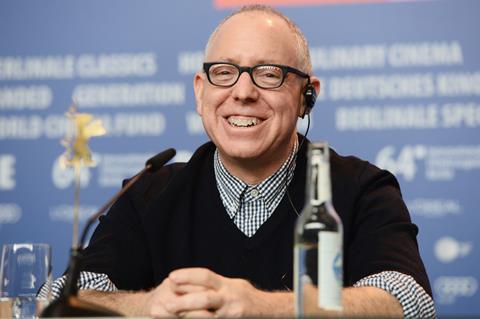 Logan Lerman and Sarah Gadon star in the Philip Roth adaptation about a Jewish boy from New Jersey who attends a midwestern university during the Korean War. Summit Entertainment acquired North American rights following the Sundance world premiere. FilmNation handles international sales and Indignation screens in Panorama Special on Sunday.
Had you wanted to direct for a long time?
It was something that grew on me. It was a dawning realisation after I found myself unemployed and an empty-nester with my youngest daughter going to college.
Who was the first to see your script?
Anthony [Bregman, producer at Likely Story] in late 2014. He got his first job at Good Machine and has now become my favourite independent US producer. He read it and called me.
What was it like to be on the other side?
There's no existential difference from making movies at Focus for so long. It's a team effort. Before that, I pieced together movies at Good Machine. But it had been some time since I was the guy out there with the script under his arm, banging on doors.
Why make Indignation now?
It's a story from a different era in which there's a tidal wave of American xenophobia and jingoism and repression of women and young men disappearing in overseas wars that don't seem to make sense. You could say it's from another era or you could say… "Whaaat?" There is an angry melancholy that underwrites it all, and in spite of it all there's a love story. You don't get the chance that often these days to tell tragic love stories.
Tell us about your two leads.
Logan and I met and sat for hours and talked and talked. I'd heard what a lovely person he is. He is crew-certified. I'd been a fan of Sarah's for a long time. She is gifted. Technically she's off the charts.
And you got Tracy Letts to play the school dean.
I'm really happy. He's already a god [a Pulitzer and Tony Prize-winner]. [Indignation] looks and smells like a prestige movie. On the other hand, how many movies have 16 minutes of banter and at the end of it audiences are applauding?
Where did you shoot?
We shot in 24 days in that 35-mile radius around New York City. I didn't do lots of takes. I made sure that I was insanely over-prepared, regardless of whether I was going to be any good at it.
Will you direct again?
I'm going to take a deep breath. I've got a couple of other movies in Berlin. I produced Alone In Berlin. I was executive producer on Junction 48 from Israel, and Emma Thompson will present an 'in memoriam' screening for Alan Rickman [Sense And Sensibility, which Schamus co-produced].