The Iranian film-maker discusses his competition entry about 'Green Card soldiers' and living in exile from his home country.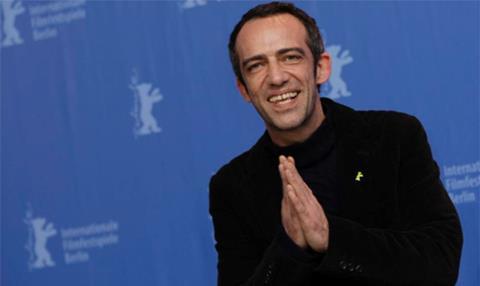 Similar to other titles in this year's competition line-up, Rafi Pitts' latest film Soy Nero takes on immigration, in this case focusing on the plight of 'Green Card soldiers' - immigrants who join the US army in hopes of obtaining citizenship. Pitts, who is himself a migrant, living in Paris in exile from Iran, likens himself to the characters in his films, "that guy on the street that wants to belong to a nation, but can't belong to that nation".
Soy Nero marks the Iranian-born film-maker's third time in Berlin competition, following It's Winter and The Hunter. He spoke to Screen about the making of the film, which is a German, French and Mexican co-production. The Match Factory are handling international sales.

Immigration is a big topic at the moment. What interested you in focusing on the US-Mexican side of the issue?

America is a vast country that is populated with immigrants, yet also gives a hard time to these immigrants. Other countries are doing the same, but I felt I was in neutral ground since I am not American, and I am not pinpointing a specific area or group of people. Prior to shooting, I spent 10 months in Los Angeles. I didn't want to get any information wrong.

How did you find out about the US's Green Card Soldier programme?

I asked myself, "What is the most absurd border I can go to?". Here we are in Berlin, where everyone was celebrating the wall coming down in 1989, but now, all of a sudden, walls are going up across the world. When I saw that politicians are thinking of putting up a wall on the US-Mexico border, I started looking into the options for work permits and came across the US Green Card Soldier programme, which has been in existence since the Vietnam War.

How did you go about researching the topic?

I went to Tijuana, just over the US border in Mexico, where I met with Hector Barajas. He was deported 18 years ago for getting into a fight after he had served in the Gulf War. He created a shelter called The Bunker for deported veterans. I spoke to many people there and it made me think, "War is violent enough. After serving on the frontlines for your country, being deported for getting into a small amount of trouble seems inhumane." For me, this is a story that refers to Europe and everywhere else as well. I strive for people to know these issues exist, and to encourage people to talk about it.

What did the casting process involve?

It was important to get the casting right, especially as I am not from the US. So I spent five months casting. I wanted these actors to have experienced life, to understand what it might be like to be these characters. It would be crazy for me to tell an actor how to play a role. I want them to tell me how it should be done. This is how I work with all my films, typically using non-actors. Johnny Ortiz, who plays Nero, has been through a lot in his life. He brought a lot of depth and heart to this role, as have all the actors.

You have never shot digitally. What is the added value in shooting on 35mm?

It's about what's good for the film. I tested the Arri Alexa in the desert in May (Mexicali, doubling for the Middle East as well as Tijuana, Palm Springs and Los Angeles), and I found it interesting that while the shots are beautiful, you couldn't feel the heat which was sometimes almost 50C. On 35mm, you could feel the heat, sort of like a texturing. We could only see the rushes every four or five days. Some people can't handle that, but I am used to it. I think it helps create a tension on set to get each take right.

You are a hero to many Iranians, viewed as an important film-maker in the second wave of Iran's 'New Wave' cinema movement. What does that mean to you?

We all started together and tried to shake the tree. In that sense, I can appreciate that. But right now I just want to know the average guy on the street in any country. In my film-making, I am always questioning the authorities and why they disregard the marginal guy. They have the right to have a life, too. Nobody worries about the guy on the street. It's not right.

Have you been able to return to Iran since you made The Hunter?

I have made four films in Iran, all censored in the country. The Hunter is the film that got me into trouble. The government thought I was involved with the 2009 riots since the film is about a man who loses his wife and daughter in a shoot-out between police and demonstrators. It was just a coincidence that the riots happened after the filming.
When I went to Berlin to show the film to the producers, I was told by officials not to come back. So I haven't been back since 2009. I don't like to say I 'can't' come back, but under the constitution they should have never imprisoned Jafar Panahi and Mohammad Rasoulof, who were both given six-year prison sentences and banned from making films for 20 years. That is the situation I am dealing with. So I am in exile - so what? It's just me feeling sorry for myself and we all like to feel sorry for ourselves. It's not about me - it's about the real people.