Screen talks to this year's selection of European Shooting Stars.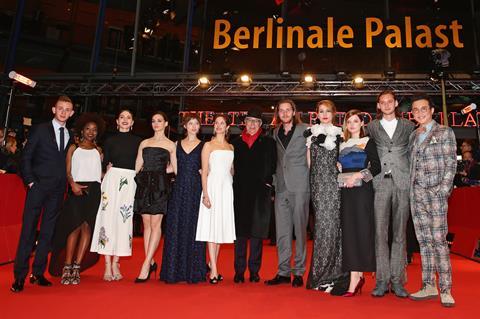 Reinout Scholten van Aschat (The Netherlands)
Biggest inspiration?
The fiction world has always attracted me. My father is an actor, mostly on stage. When I was a kid I went to the theatre to see him. The spiritual gathering of grown-up people in a dark space, and focus on the voice of the actors reminded me of kids and bedtime stories.
Big Break?
The Heineken Kidnapping. A film based on a kidnap in the 80s in Amsterdam. It was my first big part in a movie and I got to perform with one of my heroes, Rutger Hauer.
Biggest challenge to date?
That's definitely my most recent film, Beyond Sleep. I play a young student who gets lost in the mountains. I'm in every scene and we improvised a lot. To prepare for the role I went to the mountains of Norway for a week, to wander around with a compass and some food and a tent.
Which director would you most like to work with?
Thomas Anders Jensen. He is a big inspiration for me and my generation of actors/directors. On both the acting level and storytelling level he is very new.
Next up?
I just finished a theatre play about Charles Manson, with my theatre group Lars Doberman and I'm doing a low budget film- the debut film of Viktor van der Valk, a young dutch director who wants to make films with an intimate group of friends, actors writers and other artists.
Tihana Lazovic (Croatia)
Biggest inspiration?
I played piano for 10 years, and then one day I decided to quit. I was 16 at the time, and I went to a theatre audition. I said to myself: "If you pass the audition, you'll be an actress, if not, you will do something else". Fortunately, I passed and the rest is history.
Big Break?
My first feature film Hush… by Lukas Nola. He saw me in the hallways of the academy where I am a student, and he enquired about me. He was interested in me because he thought I was a rebel. One day, he called me and told me he had a script for me. My role in Dalibor Matanic's The High Sun [winner of the Un Certain Regard Jury Prize, Cannes 2015], followed after that.
Biggest challenge of career to date?
Things are happening very quickly, and the biggest challenge is to stay normal and down to earth. To not forget who I am, where I come from and who my friends are.
Next up?
At the moment, I am working on a TV series called Newspapers, directed by Dalibor Matanić. Also, I am one year away from graduating in Acting, so I need to finish my studies. Following the hype of Sparrows I've had several film offers from around Europe and beyond. Only time will tell what path I will take.
Maria Valverde (Spain)
Biggest inspiration?
When I was 8 years old I was fascinated with every film poster that I saw in the film theatres. My mum told me that the people in those posters were actors. It was then when I started to dream of being an actress. And when I was 10 I stared acting lessons. My teacher, Ana, just made me fall in love with it. She was very inspiring and very important to me in all this.
Big Break?
The Weakness Of The Bolshevik, my first movie for which I won a Goya Best New Actress Award. Manuel Martin Cuenca, the director, gave me this big opportunity and taught me most of the things that I know right now. He is one of the angels on my path.
Which director would you most like to work with?
Sofia Coppola or Alejandro González Iñárritu
Next up?
I am in the next project from Mélanie Laurent and I´ll be working with Cédric Klapisch.
Sara Serraiocco (Italy)
Biggest inspiration?
I started off as a dancer and worked in a dance company for a long period. For me dancing was a way to express my feelings and emotions, and this led me to pursue acting.
Big Break?
My big break was getting my first role on screen in a movie called Salvo, directed by Antonio Piazza and Fabio Grassadonia. The film was presented in Cannes in 2013 and won the Grand Prix of the Critics week.
Biggest challenge of your career to date?
Working in Italy as a young actor has not been so easy. I studied at the National film school ' Centro Sperimentale di cinematografia, and after that went to numerous auditions. It was hard. Finally I got my first role in the movie Salvo. It was my biggest challenge since I had to play a blind girl.
Which director would you most like to work with?
I would really love to work with Inarritu, I really loved Birdman particularly for the outstanding performances by the actors. My favourite Italian director is Matteo Garrone. I love the way he represents reality in his movies.
Next up?
I am working on a project that means a lot to me called Non é un Paese per Giovani directed by Giovanni Veronesi.I will play the role of a girl who is very funny but at the same time has a melancholic side to her. This is a role that will give me the chance to transform myself physically. In Italy it is rare for an actress to have this kind of role.
Martha Canga Antonio (Belgium)
Biggest inspiration?
Acting is an art I had no experience with, so I wanted to challenge myself and see how far I would get. I discovered a new talent and a new universe. One of the actors that inspires and motivates me is Samuel L Jackson.
Big Break?
My first acting experience: playing the lead role in Black, a 15 year old girl who has to choose between her gang or love.
Biggest challenge to date?
It isn't really a challenge but more something I always keep in mind: the best way to prove myself in the industry is to stay true to myself, as I'm the best me there will ever be.
Next up?
I'm improving my skills with a language accent coach and looking for challenging projects abroad.
Kacey Mottet Klein (Switzerland)
Biggest inspiration?
I didn't really have a choice whether to be or not to be an actor. Without sounding pretentious, it's the theatre which came to me. I arrived in this business by chance, being spotted in the crowd at the Lausanne marathon when I was seven years old.
Big Break?
Playing the role of a great, well-known singer in Joann Sfar's Gainsbourg, A Heroic Life was awesome [Klein played the young Gainsbourg]. I didn't really know about him beforehand but I had a lot of fun learning to play him.
Biggest challenge of career to date?
I think when you're young and you work in an environment like this, it's really important to remain humble. You've got to understand that you're lucky, and this is not an opportunity available to everyone. When I was very young I wanted to be a garbage truck driver but today I'm very glad to be an actor.
Next up?
I currently don't have any upcoming projects lined up, but I'm about to get started with the European promotion for two movies - André Téchiné's film Being 17 in competition in Berlin and Guillaume Senez' Keeper - and I'm really concentrating on improving my English.
Lou de Laage (France)
Biggest inspiration?
My mother tells me that once, as we came out of a theatre after watching a play, I said to her: "I'm going to do that when I grow up." My parents showed us the films of Chaplin, Jacques Demy, and Jean Cocteau, films that projected us even then into a dream world. Then I got lucky and met a children's drama teacher who made my acting dreams come true.
Big Break?
Working on Breathe with Mélanie Laurent, which was presented at Cannes [in Critics Week, 2014].
Which director would you most like to work with?
I'd say Steve McQueen, or Paul Tomas Anderson – I'd love to have worked on Punch Drunk Love. But there are so many!.
Next up?
I am working again with Mélanie Laurent, but this time on stage. The rest is an open book…
Jella Haase (Germany)
Biggest inspiration?
I used to listen to a lot of demo tapes in my childhood and I loved imitating those characters from the records. When the first Harry Potter movie was released I was a bit jealous about the girl who was chosen to play the part of Hermione Granger, the stunning Emma Watson. It took a view more years of being jealous and dreaming till I decided to become an actress on my own and introduced myself to a casting agency.
Big Break?
Working with David Wnendt on Combat Girls. He's an unbelievable inspiring director and I learned so much through him. And [Bora Dagtekin's German box office hit] Fack Ju Gohte. My character Chantal has become like my second identity, which is surreal sometimes.
Biggest challenge of career to date?
On of the biggest challenges is keeping up with the speed in film industry and all the demands coming with this work. You also have to become really self-confident and learn to say no. And you have to appear and to behave appropriately in the public arena all of sudden. The right handling of the media and red carpet situations are definitely challenging.
Next up?
I'm busy working on the release of my next projects, Looping, which will premiere at Max Ophuels Festival in January, and a German TV crime thriller, Dresden Tatort. Fack Ju Gohte may continue in 2016 with part 3 and I'm reading a lot of scripts, too.
Atli Óskar Fjalarsson (Iceland)
Biggest inspiration?
My mum used to take me to see shows and I became entranced by the performances, one of which was from Ingvar E. Sigurdsson, who later played my father in [Runar Runarsson's award winning second feature] Sparrows. It was an incredible honour to act alongside such a pivotal figure in my acting upbringing.
Big Break?
When I was fourteen I got a chance to be a part of Rúnar Rúnarsson's highly awarded short 2 Birds. It was a springboard into the Icelandic industry and I've been working ever since.
Biggest challenge of your career to date?
Having no union for young uneducated actors in Iceland, such as myself, I had to represent myself and had to negotiate terms and conditions without precedents. This has helped me realize my self-worth and teach me how to properly manage myself as a commodity from a business standpoint.
Which director would you most like to work with?
I've been a fan of Christopher Nolan for the longest time, and I actually had the pleasure of working for him on the set of Interstellar in Iceland as a Set Production Assistant. It was a privilege to watch him work in such proximity and I dream of one day doing some acting for him as well.
Next up?
Following the hype of Sparrows I've had several film offers from around Europe and beyond. Only time will tell what path I will take.
Daphné Patakia (Greece)
Biggest inspiration?
When I was young, my parents, my sister and I all acted in amateur theatre productions, it was a family thing. That was where I got hooked on acting.
Big Break?
Playing the only female member in a teenage gang in Spring Awakening by Constantine Giannaris.
Biggest challenge of career to date?
For a start, it's already a big challenge to make films in Greece given the current situation and the lack of financing. The challenge for an actor is to overcome these limitations with creativity.
Which director would you most like to work with?
Paul Thomas Anderson is a director I really look up to because he makes unexpected choices and the acting in his films is always amazing.
Next up?
I'm going to play a saint in a film based on [Austrian novella] The Legend of the Holy Drinker to be directed by Nikos Panayotopoulos.