Saudi film-maker Mahmoud Sabbagh challenges Saudi authorities to show his film in cinemas.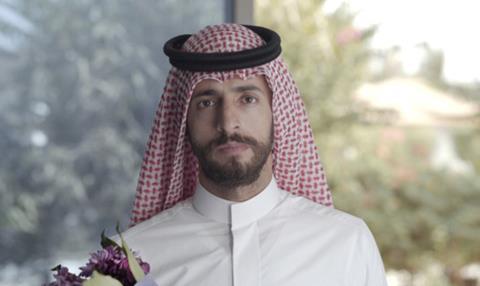 Saudi Arabia has one cinema. But film-maker Mahmoud Sabbagh, whose feature debut Barakah Yoqabil Barakah (Barakah Meets Barakah) is playing in Berlin's Forum strand, wants his film to be shown in the Islamic kingdom.
"The film will be seen [by Saudis]," says Sabbagh. "It will probably be watched through torrents, or in other GCC countries, where Saudis go to watch films at the weekend. But I do not want to end it there. I want to take the battle of having my films shown in public. Because my whole film is about that."
"I wanted to be part of the growing momentum for change," he adds. "We are a society that is in a transition. I wanted to show a balanced image of the country."
Most news emanating from the notoriously private kingdom focuses on the number of public executions, the limited rights for women and prolific human-rights abuses. Sabbagh's film does not shy away from these problems. His Jeddah-set satirises the schizophrenic nature of Saudi society, where citizens, closely monitored by the country's religious police in public, have turned to social media to lead a double life.
The film shows a far more liberal depiction of women than audiences are used to seeing from Saudi Arabia. Barakah (Hisham Fageeh) want to take popular Instagram personality Bibi (Fatima Al Banawi) out for a date, in public, but they are foiled by the watchful eye of the religious police.
Sabbagh hopes he will not suffer consequences for criticising the country's restrictive laws. Last year, a Saudi teenager was put on death row for attending a pro-democracy march.
"So far, we are only having a lot of support – partly official, mostly from normal people," he says. "I come from this generation where we are more vocal about our challenges, about our problems, but I don't want to tarnish my people. I hope I don't tarnish my people. There is this fine line, where I hope that I manage to work within it."
Sabbagh used experience he picked up making Cash, a 10-part web drama series in Saudi Arabia, to work around the rules on shooting films in the kingdom. Barakah Yoqabil Barakah is only the second film to be made in Saudi Arabia, after Haifaa al-Mansour's Bafta-nominated Wadjda.
The two films could not be more different. "My film is an honest and candid account of society, but it's not the only one," says Sabbagh. "You shouldn't watch just one film and create your own knowledge about the country based on one film. This is why we need more films."