EXCLUSIVE: Maipo Film is now readying the third film in the animated Louis & Nolan franchise, Louis & Nolan: Mission To The Moon.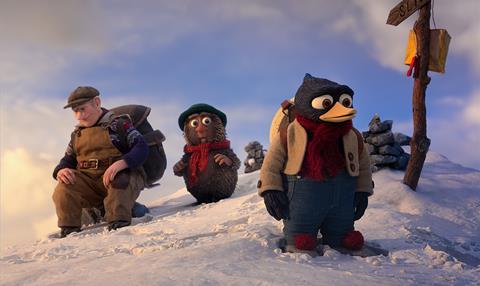 The film is now in production for release in 2018. Rasmus A Sivertsen again directs from a screenplay by Karsten Fullu. Cornelia Boysen and Synnove Horsdal produce, and the co-producers are Qvisten Animation and The Kari and Kjell Aukrust Foundation. The plot will see the titular hedgehog and magpie try to save the moon from commercialization. Sola Media will again handle sales.
The second film in the puppet animation trilogy, Louis & Nolan: The Big Cheese Race, is competing in the Generation Kplus section here after already becoming a box-office hit at home in Norway.
Maipo is also planning an April shoot for another family film, live action The Ash Lad: In The Hall Of The Mountain King. Horsdal told Screen that the project is based on classic Norwegian mythology and is "an action adventure with humour in it." The plot involves a princess who has to marry by the time she is 18 or risk being abducted by a mountain king troll.
Subotica in Ireland and Serena in the Czech Republic are producing, and the project is supported by Eurimages. Vebjorn Enger (Company Orheim) is set to play the Ash Lad.
The film will shoot in Norway and the Czech Republic and will do post-production, including extensive VFX, in Ireland.
TrustNordisk handles sales for the film, which will be delivered for autumn 2017 and could spark the beginning of a trilogy. Mikkel Sandemose directs from Aleksander Kirkwood Brown and Espen Enger's script.
Maipo is also now financing a major eight-episode TV project, The State of Happiness, which will look at how the discovery of oil in the small fishing town of Stavanger in 1969 changed the town and its residents.
"It's like a gold rush story," Horsdal said. "Individuals get these extreme possibilities overnight, how do individuals handle that and how does society handle that?" The story will focus on three young Norwegians whose lives are changed, and one American who comes to cash in on the oil boom.
The first season will tell the story up to 1972 but Horsdal hopes the series could continue "until 1994, when Norway hosted the Olumpic Games." NRK is already on board, and Petter Naess will direct with Mette M Bolstad and Siv Rajendram on board to write.
Maipo's Sonja Henie biopic, Queen Of Ice, directed by Anne Sewitsky, will likely shoot by the end of the year.