DreamWorks-Paramount Pictures, Warner Bros Pictures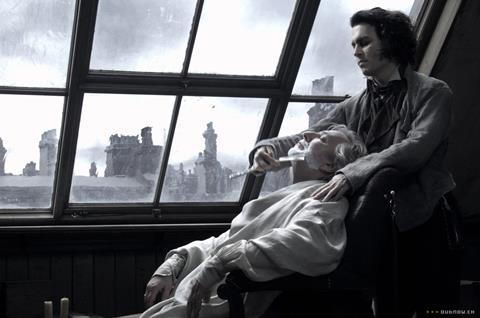 Producers: Walter F Parkes & Laurie MacDonald, Richard D Zanuck, John Logan
WHY - Tim Burton's sensibilities are perfectly matched with Stephen Sondheim's grisly Grand Guignol musical about murder, vengeance and pies made of human flesh in Victorian London. After five previous films together, Sweeney Todd is also the high point of Burton's collaboration with Johnny Depp, who gives another bravura performance as the wronged Benjamin Barker, aka Todd.
CHANCES - Since Chicago revitalised the musical in 2002, Hollywood has struggled to duplicate its magical combination of box-office green and Oscar gold, but Sweeney Todd might reverse that losing streak. Widely acclaimed, the film finally gives Burton and Depp a shot at the awards glory that has eluded them. Older voters might be turned off by the liberal blood-letting but few will be able to deny the inspired film-making.
PROFILE: Richard D Zanuck
Shot in 50 days for just $50m, Sweeney Todd: The Demon Barber Of Fleet Street is the fourth collaboration between director Tim Burton and Richard D Zanuck, who produced the R-rated adaptation of Stephen Sondheim's musical with screenwriter John Logan and DreamWorks' Walter Parkes and Laurie MacDonald.
Based originally on Christopher Bond's retelling of the Victorian penny dreadful The String Of Pearls, the musical (and book by Hugh Wheeler) tells the tale of a murderous barber (Johnny Depp) who seeks revenge after being wrongly jailed by a twisted judge (Alan Rickman). His partner in crime, Mrs Lovett (Helena Bonham Carter), bakes the bodies into pies.
Burton apparently became interested in the project while still an unknown director. He approached Sondheim in London after seeing the show 12 times in a row.
'When Todd became available to him at DreamWorks, he jumped at the chance,' says Zanuck. 'He'd always had it in the back of his mind, but never managed to put it together due to timing issues.'
The big-screen version gives audiences a chance to hear Depp sing in what Zanuck describes as 'a horror piece set to music'. 'People forget, but Johnny first came out to Hollywood as a band singer,' he says. 'Johnny has an incredible voice.'
Sacha Baron Cohen, who plays Depp's foil, also turned out to be something of a crooner, which Burton and Zanuck determined on hearing his rendition of songs from Fiddler On The Roof at the audition. As for Bonham Carter, Zanuck says: 'Having seen all the Mrs Lovetts on stage, I couldn't imagine a better one than Helena Bonham Carter, whose performance is warm, tender and funny.'
'What Tim Burton brought to the project is Tim Burton,' he adds. 'His style is unique. You can walk into a theatre not knowing who directed the picture and most people will know within a few minutes that Tim directed this. He's a real auteur.'