Dirs/scr: Aharon Keshales, Navot Papushado. Israel. 2013. 110mins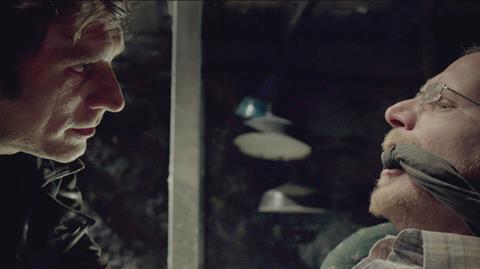 A stylishly violent revenge thriller, expertly and brutally crafted Israeli horror-chiller Big Bad Wolves builds on the potential shown by the directors Aharon Keshales and Navot Papushado with their cult 2010 debut Rabies, and racks up the tension and chills to impressive effect.
In amongst the lashings of torture violence, there are some deliciously dark and funny moments.
A sure-fire must-have for the horror genre circuit, the film revels in its teasing and tense plot twists and its black, black, sense of humour, and while the relentless torture and violence will make it a tough view for mild-mannered audiences, it should prove a popular draw for genre distributors. The film had its world premiere at the Tribeca Film Festival.
A young girl is lost in the woods and is later found dead, with her head missing. Meanwhile obsessed and out-of-control cop Miki (Lior Ashkenazi) recruits two bruisers to beat up the man he suspects for a series of murders, schoolteacher Dror (Rotem Keinan), also believing he is behind her disappearance.
Ordered to take him home, things go bad for Miki when the attack goes viral and he finds himself suspended just as the girl's body is found. He still opts to pursue and stalk Dror, but things take a bizarre and disturbing turn when the girl's distraught father Gidi (Tzahi Grad) snatches both him and Dror and imprisons them in the basement of a house he has bought specially (even testing the soundproofing by having the estate agent scream while he checks the upstairs rooms).
Wanting to know the whereabouts of his daughter's missing head, Gidi starts torturing Dror, but things get so extreme that even Miki starts to object, only to find himself bound and gagged. The arrival of Gidi's aging father (Menashe Noy) throws the story into even more dark and disturbing territory.
In amongst the lashings of torture violence, there are some deliciously dark and funny moments. From the opening slow-mo fairy-tale like credits sequence as the young girl (wearing a red dress, naturally) is lost while playing hide and seek in a ruined building through to the nastiness in the cellar and even a surreal encounter with a man on horseback, this is a unique and dark and disturbingly left-field film well worth attention.
Production companies: United Channels Movies, United King Films
Sales contact: XYZ Films, www.xyz.films.com
Producers: Chilik Michaeli, Avraham Pirchi, Tami Leon, Moshe Edery, Leon Edery
Cinematography: Giora Bejach
Editor: Asaf Korman
Production designer: Arad Shawat
Music: Frank Hayim Ilfman
Main cast: Lior Ashkenazi, Tzahi Grad, Rotem Keinan, Dov Glickman, Menashe Noy, Dvir Benedek, Nati Kluger, Kais Nashef, Ami Weinberg