Which are the big films waiting to dazzle audiences in 2010? In the first of a two-part feature covering the year's highlights, Mike Goodridge profiles the key studio releases at the US box office, with opening dates accurate at time of press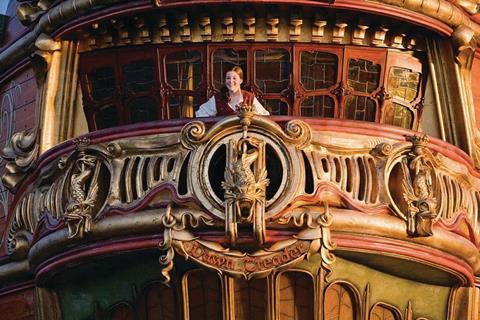 Spring: January to March
From Paris With Love
(Lionsgate, Feb 5)
Action thriller produced by France's EuropaCorp, starring John Travolta and Jonathan Rhys Meyers as US agents out to stop a terrorist attack in Paris.Directed by Taken's Pierre Morel.
Percy Jackson & The Olympians: The Lightning Thief
(Fox, Feb 12)
Chris Columbus directs the film of the popular children's novel by Rick Riordan about a US teenager accused by the ancient Greek Gods of stealing Zeus' lightning bolt. With Logan Lerman, Pierce Brosnan, Uma Thurman and Rosario Dawson.
The Wolfman
(Universal, Feb 12)
The oft-postponed remake of the classic 1941 horror movie from Universal's library, Joe Johnston's lavish movie stars Benicio Del Toro as a nobleman bitten by a werewolf in Victorian England. With Emily Blunt and Anthony Hopkins.
Valentine's Day
(Warner Bros, Feb 12)
A gigantic star cast has been assembled for Garry Marshall's romantic comedy which follows 10 people in Los Angeles on Valentine's Day. With Julia Roberts, Bradley Cooper, Jessica Biel, Jessica Alba, Patrick Dempsey, Jennifer Garner, Jamie Foxx, Anne Hathaway et al.
ShutterIsland
(Paramount, Feb 19)
Receiving its world premiere in Berlin, Martin Scorsese's thriller from Dennis Lehane's novel goes wide in the US immediately afterwards. Leonardo DiCaprio plays a US marshal investigating the disappearance of a woman from an asylum.
Cop Out
(Warner Bros, Feb 26)
Formerly known as A Couple Of Dicks, Kevin Smith's first non-Weinstein film is a comedy which teams Bruce Willis and Tracy Morgan as NYPD cops on the trail of a stolen baseball card.
The Crazies
(Overture, Feb 26)
Breck Eisner directs the remake of George A Romero's 1973 horror classic about a small Pennsylvania town infected by a biological weapon that drives them insane. With Timothy Olyphant (above) and Radha Mitchell.
Alice In Wonderland
(Disney, March 5)
One of the year's first tentpoles is Tim Burton's eagerly awaited 3D movie of Lewis Carroll's story featuring newcomer Mia Wasikowska as Alice with Johnny Depp, Anne Hathaway and Helena Bonham Carter (right).
Green Zone
(Universal, March 12)
Paul Greengrass' thriller finally hits the screens, with his Jason Bourne star Matt Damon in the story of a journalist trailing CIA agents in Iraq.
Remember Me
(Summit, March 12)
Twilight heartthrob Robert Pattinson has a chance to display his acting chops in this Allen Coulter-directed weepy co-starring Emilie De Ravin as his girlfriend.
The Bounty Hunter
(Sony, March 19)
Gerard Butler and Jennifer Aniston team up for an action-comedy in which Butler is a bounty hunter hired to find his ex-wife (Aniston) after she skips bail. Andy Tennant is the director.
Season Of The Witch
(Lionsgate, March 19)
Dominic Sena is back as director of this medieval adventure starring Nicolas Cage as a French knight (!) transporting a suspected witch to a monastery.
Clash Of The Titans
(Warner Bros, April 2)
Avatar star Sam Worthington travels back a few millennia to play Perseus in Louis Leterrier's remake of the 1981 fantasy adventure.
How To Train Your Dragon
(Paramount/DWA, March 26)
The first of three 3D DreamWorks Animation titles out in 2010, How To Train Your Dragon is the story of a Viking teenager who goes up against his dragon-slaying tribe when he befriends one of the creatures.
SUMMER: April to August
Date Night
(Fox, April 9)
Steve Carell and Tina Fey play a suburban couple whose night out is transformed into a battle against corrupt cops and mobsters following a case of mistaken identity. Directed by Shawn Levy.
The Losers
(Warner Bros, April 9)
Action adventure about an elite US special forces unit on a mission in the Bolivian jungle. Directed by Sylvain White and starring Jeffrey Dean Morgan, Zoe Saldana and Chris Evans.
Kick-Ass
(Lionsgate, April 16)
Matthew Vaughn's much-anticipated action movie based on the comic book series by Mark Miller and featuring Nowhere Boy sensation Aaron Johnson as a teenager who decides to become a superhero. Nicolas Cage also stars.
Wall Street 2
(Fox, April 23)
Oliver Stone returns to the world of Gordon Gekko 23 years after the original film, with Shia LaBeouf as a young trader who teams with Gekko (Michael Douglas) to unseat a corrupt hedge-fund chief. Carey Mulligan also stars.
Furry Vengeance
(Summit, April 30)
An effects-heavy comedy adventure in which a group of animals team up to stop their forest being destroyed by a housing developer. Brendan Fraser stars, Roger Kumble directs.
A Nightmare On Elm Street
(Warner Bros, April 30)
New Line's re-imagining of Wes Craven's horror classic featuring Jackie Earle Haley as Freddy Krueger, the killer who hunts down teenagers in their dreams. Samuel Bayer directs.
Iron Man 2
(Paramount, May 7)
The first bona fide blockbuster of the summer sees Robert Downey Jr return as Iron Man with Mickey Rourke and Scarlett Johansson joining the cast. Directed by Jon Favreau.
Letters To Juliet
(Summit, May 14)
Romantic drama starring Amanda Seyfried as a young US woman in Verona responding to letters sent to Romeo And Juliet's Juliet and becoming involved in an old love affair from the 1950s. Gary Winick directs.
Robin Hood
(Universal, May 14)
Ridley Scott's version of the enduring legend sees Russell Crowe as Robin Hood, Cate Blanchett as Maid Marian and Matthew Macfadyen as the Sheriff of Nottingham.
Shrek Forever After
(Paramount/DWA, May 21)
The fourth and final Shrek feature sees the evil Rumpelstiltskin trick the ogre into signing his life away and handing over the kingdom. Mike Mitchell directs.
Prince Of Persia: The Sands Of Time
(Disney, May 28)
A new Jerry Bruckheimer blockbuster wannabe based on the Ubisoft video game and featuring Jake Gyllenhaal as a ninth century prince who faces off against an evil despot in Persia.
Sex And The City 2
(Warner Bros, May 28)
The women of Sex And The City return after the first feature film grossed more than $415m worldwide. Once again, Michael Patrick King has written and directed.
Killers
(Lionsgate, June 4)
Katherine Heigl and Ashton Kutcher team with director Robert Luketic (The Ugly Truth) for a thriller in which a couple suspect their neighbours are assassins out to kill them.
Marmaduke
(Fox, June 4)
A family comedy based on the long-running comic strip about the enormous Great Dane Marmaduke and the mayhem he brings to his human family. Owen Wilson, Amanda Seyfried and William H Macy star, Tom Dey directs.
The A-Team
(Fox, June 11)
Joe Carnahan directs the action in the feature of the 1980s TV series, with Liam Neeson as Hannibal Smith, Bradley Cooper as Faceman, District 9's Sharlto Copley as Murdock and Jessica Biel as Lt Sosa.
Get Him To The Greek
(Universal, June 11)
Forgetting Sarah Marshall stars Jonah Hill and Russell Brand and director Nicholas Stoller reteam for this comedy about an out-of-control rock star and the young man assigned to get him from London to his concert at the Greek theatre in Los Angeles.
The Karate Kid
(Sony, June 11)
Jackie Chan plays the Pat Morita role and Jaden Smith plays the Ralph Macchio role in Harald Zwart's remake about a bullied kid and his martial-arts mentor.
SUMMER: April to August
Jonah Hex
(Warner Bros, June 18)
Based on the graphic novel and starring Josh Brolin as the drifter and bounty hunter hired to hunt down and kill terrorist John Malkovich. Megan Fox and Michael Fassbender also star in Jimmy Hayward's film.
Toy Story 3
(Disney, June 18)
Lee Unkrich, who edited the first two films and co-directed the second, takes over as director on the third film - in 3D - in which the toys are accidentally picked up by garbage men.
Grown Ups
(Sony, June 25)
Adam Sandler, Kevin James and Chris Rock lead the cast of this comedy about five friends reuniting for the July 4 weekend, 30 years after high school. Dennis Dugan directs.
The Twilight Saga: Eclipse
(Summit, June 30)
Just six months after the second film, New Moon, grossed close to $700m worldwide, the third in the series arrives with a new director in David Slade and more romantic shenanigans between Bella and the two men in her life - a vampire and a werewolf.
Knight And Day
(Sony, July 2)
Vanilla Sky pair Tom Cruise and Cameron Diaz reteam for James Mangold's action comedy caper as fugitives on the run across the globe.
The Last Airbender
(Paramount, July 2)
Paramount has high hopes for this M Night Shyamalan fantasy adventure, is based on the animated TV series about a young boy with the power to manipulate the four elements. Planned as the first in a trilogy. Slumdog Millionaire's Dev Patel stars alongside Jackson Rathbone.
Predators
(Fox, July 9)
Hungary's Nimrod Antal directs the latest in the Predator franchise, featuring an above-average cast (Topher Grace, Adrien Brody, Alice Braga, Laurence Fishburne) and written and produced by Robert Rodriguez.
The Sorcerer's Apprentice
(Disney, July 16)
Jerry Bruckheimer's second big picture for Disney this summer is an update of the poem so memorably animated with Mickey Mouse in Fantasia. This time National Treasure's Jon Turteltaub directs an effects-heavy spectacular with Nicolas Cage and Jay Baruchel.
Inception
(Warner Bros, July 16)
Warner Bros has been slowly building buzz with some dazzling trailers for Christopher Nolan's latest fantasy spectacular. The cast includes Leonardo DiCaprio, Ellen Page, Michael Caine and Marion Cotillard.
Dinner For Schmucks
(DreamWorks, July 23)
Jay Roach directs this remake of French comedy The Dinner Game with a stellar comedy cast including Paul Rudd, Steve Carell and Zach Galifianakis.
Salt
(Sony, July 23)
Originally a vehicle for Tom Cruise, this action adventure now stars Angelina Jolie as a CIA officer accused of being a Russian spy who goes on the run to prove her innocence. Phillip Noyce directs.
Cats & Dogs: The Revenge Of Kitty Galore
(Warner Bros, July 30)
Eight years after the original movie, a sequel appears about a rogue cat agent who attempts to bring down her canine enemies as well as her feline rivals. Brad Peyton directs.
Meet The Fockers sequel
(Universal, July 30)
Paul Weitz takes over as director on the third film in the Meet The franchise, again starring Ben Stiller and Robert De Niro, with Jessica Alba joining the regular cast.
Morning Glory
(Paramount, July 30)
A comedy starring Rachel McAdams as a TV producer struggling with dueling news anchors Harrison Ford and Diane Keaton. Roger Michell directs.
Eat Pray Love
(Sony, Aug 13)
Elizabeth Gilbert's memoir about a divorced woman's voyage of self-discovery around the world becomes a film directed by Ryan Murphy and starring Julia Roberts and Javier Bardem.
The Expendables
(Lionsgate, Aug 13)
The action cast to end them all is assembled by director Sylvester Stallone for a story of mercenaries on a mission to overthrow a Latin dictator. Stallone is joined by Jet Li, Dolph Lundgren, Jason Statham, Mickey Rourke and Bruce Willis, among others.
Footloose
(Paramount, June 18)
Gossip Girl's Chace Crawford takes up the Kevin Bacon role in Kenny Ortega's remake of the 1984 film about a city boy bringing rock 'n' roll to a conservative Bible Belt town.
AUTUMN: September to October
The American
(Sept 1)
Italy-set suspense thriller directed by Control's Anton Corbijn and starring George Clooney as a hitman who hides out in the Italian countryside whilewaiting for his last job.
The Town
(Warner Bros, Sept 10)
Ben Affleck's second directing effort sees him star as an unrepentant criminal who falls for one of his hostages. Rebecca Hall, Jon Hamm and Jeremy Renner co-star.
Guardians Of Ga'Hoole
(Warner Bros, Sept 24)
Long-in-the-making animated family yarn from 300 and Watchmen director Zack Snyder based on the books by Kathryn Lasky about a young owl who dreams of adventure.
Let Me In
(Overture, Oct 1)
A remake of recent Swedish vampire classic Let The Right One In, Let Me In stars The Road's Kodi Smit McPhee as the boy and Chloe Moretz as his new neighbour. Matt Reeves (Cloverfield) directs.
The Social Network
(Sony, Oct 1)
David Fincher directs, Scott Rudin produces and Aaron Sorkin is the writer of this high-calibre movie about the founders of Facebook, starring Jesse Eisenberg, Andrew Garfield and Justin Timberlake.
Going The Distance
(Warner Bros, Oct 8)
Real-life couple Drew Barrymore and Justin Long team for a romantic comedy about the perils of a long-distance relationship. Directed by Nanette Burstein.
Jackass 3D
(Paramount, Oct 15)
The latest round of high jinks and vulgar stunts, this time in 3D but still featuring Johnny Knoxville, Chris Pontius and Steve-O.
Red
(Summit, Oct 22)
A former agent returns to duty in order to bring down a high-tech killer in Robert (Flightplan) Schwentke's action thriller starring Bruce Willis, Morgan Freeman and Helen Mirren.
Paranormal Activity sequel
(Paramount, Oct 22)
Saw VI director Kevin Greutert has stepped in to direct the first sequel to the micro-budget sensation of 2009, while original director Oren Peli will serve as producer. Paramount has snared the pre-Halloween release slot and is hoping for an annual franchise.
THE HOLIDAYS: November to December
Due Date
(Warner Bros, Nov 5)
The latest comedy from Golden Globe winner Todd Phillips stars Robert Downey Jr as a man rushing cross-country to be with his wife when she gives birth.
Megamind
(Paramount/DWA, Nov 5)
Ben Stiller executive produced this 3D-animated comedy about villain Megamind (voiced by Will Ferrell) and his battles with superhero Metro Man (Brad Pitt).
Rapunzel
(Disney, Nov 12)
The 50th Disney animated classic is based on the Brothers Grimm fairy tale, directed by Nathan Greno and Byron Howard (Bolt) and featuring Mandy Moore as the voice of Rapunzel.
Unstoppable
(Fox, Nov 12)
Tony Scott's latest stars Denzel Washington as a man trying to prevent an out-of-control freight train, with a cargo of poisonous gas, from wiping out a city.
Harry Potter And The Deathly Hallows: Part 1
(Warner Bros, Nov 19)
The first part of the epic final novel in the blockbusting franchise sees Harry, Ron and Hermione leaving Hogwarts to engage in the final battle with Voldemort. Once again David Yates directs.
Burlesque
(Sony, Nov 24)
A rags-to-riches musical with Christina Aguilera in her acting debut as a woman trying to make it as a singer with the help of club owner Cher.
Love And Other Drugs
(Nov 24)
Jake Gyllenhaal and Anne Hathaway team for Edward Zwick's film of Jamie Reidy's memoir about a pharmaceutical rep hawking Viagra who falls for a woman with Parkinson's disease.
The Chronicles Of Narnia: Voyage Of The Dawn Treader
(Fox, Dec 10)
The third in the series, which has found a new studio home at Fox, is directed by Michael Apted and sees Edmund and Lucy on a voyage with Prince Caspian.
Tron: Legacy
(Disney, Dec 17)
Nearly 30 years after Tron comes the sequel produced by original director Steven Lisberger and now directed by Joseph Kosinski. Garrett Hedlund plays the son of Jeff Bridges who follows his missing father into the computer world.
Untitled James L Brooks Movie
(Dec 17, 2010)
A stellar cast led by Reese Witherspoon, Owen Wilson, Jack Nicholson and Paul Rudd has been assembled for Brooks' first feature since the 2004 flop Spanglish.
Yogi Bear
(Warner Bros, Dec 17)
Part live action, part CG-animated big-screen version of the classic animated TV series sees Yogi and Boo Boo trying to save Jellystone National Park from closure. Eric Brevig directs.
The Green Hornet
(Sony, Dec 22)
Michel Gondry's film of the radio and TV superhero features Seth Rogen in dual roles as Britt Reid and the title character, with Cameron Diaz and Christoph Waltz.
Gulliver's Travels
(Fox, Dec 22)
Jack Black takes the lead in this comic reworking of Swift's novel, directed by Shark Tale's Rob Letterman and co-starring Emily Blunt and Jason Segel.
Life As We Know It
(Warner Bros, Dec 22)
Katherine Heigl, the new queen of the romantic comedy, stars as a caterer forced to live under the same roof as a TV sportscaster (Josh Duhamel) when their goddaughter is left without parents. Greg Berlanti directs.
True Grit
(Paramount, Dec 25)
The Coen brothers have returned to Charles Portis' novel for their no-doubt distinctive vision of the Old West featuring The Dude himself, Oscar favourite Jeff Bridges, as Rooster Cogburn alongside Matt Damon and Josh Brolin.
Hereafter
(Warner Bros, Dec TBD)
Clint Eastwood enters supernatural territory with this Europe-set mystery starring Matt Damon as a blue-collar American with a special connection to the afterlife.