Dir: John Whitesell. US. 2011. 107mins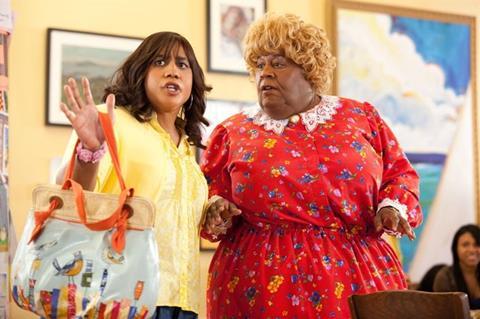 The third film in Martin Lawrence's comedy series about a FBI agent who finds himself forced undercover as a tubby matriarch, Big Mommas: Like Father, Like Son is a wearyingly unamusing affair.
Lawrence's hijinks should ensure the movie is a moneymaker, if certainly not on the scale of its predecessors.
Devoid of ideas not reflected in its title, or even much in the way of sustained effort, the movie is a meandering misfire that strangely somewhat skimps on comedy in favor of wildly misguided stabs at adolescent love and familial bonding.
The original film grossed $174 million, inclusive of a robust $56 million overseas, in 2000. Six years later, a sequel netted a $138 million cumulative haul, almost half coming from foreign receipts. Decent eight-figure opening weekend returns should dissipate with negative word-of-mouth, though apparent foreign appetites for Lawrence's hijinks should ensure the movie is a moneymaker, if certainly not on the scale of its predecessors.
Lawrence reprises his role as Malcolm Turner, a federal agent who, apparently working totally by himself, is on the brink of taking down Russian mobster Chirkoff (Tony Curran). When his informant is killed and stepson Trent (Brandon T. Jackson), a would-be rapper who wants his stepdad to sign a recording artist contract instead of making him go to college, witnesses the murder, Malcolm must go undercover at an all-girls performing arts academy.
Posing again as Big Momma, Malcolm forces the endangered Trent to pose as his great-niece Charmaine, while he works to track down the missing flash drive that will incriminate Chirkoff. As Charmaine, meanwhile, Trent develops a crush on fellow singer Haley (Jessica Lucas).
Returning director John Whitesell stages flat set pieces, and makes confusing editorial choices in the movie's two or three brief, desultory action scenes. The tone is never anything that strikes a realistic note (even the bad guys hold their weapons in strange, awkward fashion, as if posing for promotional still shots), but neither does it really reach for heightened, manic exaggeration.
No doubt tasked from above with juggling disparate narrative demands, debut screenwriter Matthew Fogel nonetheless does a poor job of executing any of them with interest or aplomb. It doesn't help that the story abandons the idea of mining comedic material from Malcolm's discomfort with his fat suit. Instead, there are a few scenes of pantomimed theatrics and pratfalls, but even these moments lack any real sense of honest energy, and give way chiefly to too hearty an investment in Haley and Trent's burgeoning relationship, which is by far the weakest portion of an already anemic narrative.
Lawrence, who at least pushed manic buttons of character-rooted outrageousness in the original movie, comes across as chiefly bored here. Actor-comedian Jackson, who made such an impression in Tropic Thunder, seems largely handcuffed by the material.
Production design and technical credits are spare and at times unconvincing, reflecting the utter lack of a cohesive vision in this midlevel production. A flickering, hypothetical high point comes in the form of "Lyrical Miracle," Trent's chest-thumping rap song, which features in the movie a couple times.
Production companies: Regency Enterprises, Friendly Films, Runteldat Entertainment, The Collective Production
Domestic distribution: 20th Century Fox
Producers: David T. Friendly, Michael Green
Executive producers: Arnon Milchan, Martin Lawrence, Jeffrey Kwatinetz, Jeremiah Samuels
Screenplay: Matthew Fogel, based on a story by Don Rhymer and Matthew Fogel, based on characters created by Darryl Quarles
Cinematography: Anthony B. Richmond
Editor: Priscilla Nedd Friendly
Production designer: Meghan Rogers
Music: David Newman
Website: www.BigMommasHouseMovie.com
Main cast: Martin Lawrence, Brandon T. Jackson, Jessica Lucas, Portia Doubleday, Tony Curran, Ana Ortiz, Sheri Shepherd, Michelle Ang, Emily Rios, Henri Lubatti, Lorenzo Pisoni, Max Casella