Dir/scr: Augusti Villaronga. Spain. 2010. 108mins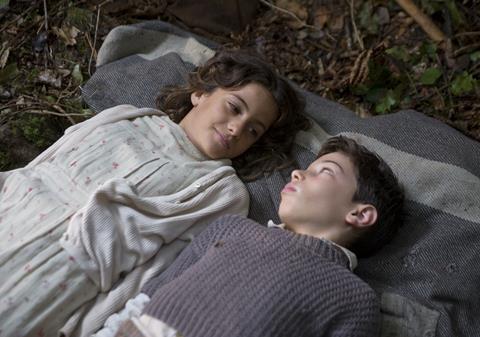 Augusti Villaronga's moody and atmospheric tale of dark goings on amongst peasants and village officials in post Civil War Catalonia is an impressive piece of storytelling as it blends a child's tough coming-of-age with murderous secrets amongst the grim adults.
Black Bread is an impressively dark period drama driven by a series of fine central performances.
Its visuals in amidst the verdant and at time frightening forests of Catalonia help give this gripping period drama a real sense of location as it delves into lies and secrets in amongst the community. Add to this a splendid lead performance by young Francesc Colomer and you have a film that could well attract distributor interest.
The film opens in stylish fashion. A man is leading his horse-drawn cart through the woods when he is attacked and killed by a hooded, almost monstrous figure. The body is thrown into the back of the cart, where the man's son is hiding in fear, and the hooded man leads horse and cart to a cliff and sends them tumbling into the woods below.
Young Andreu (Colomer) discovers the broken cart in the woods and rushes to the mangled body the boy, a friend his own age. Before he dies the boy whispers one word – "Pitorliua".
The children tell the dark story of the monstrous Pitorliua, who is supposed to haunt the dank Baumes caves. But as Andreu discovers the truth about the killings and the origin of the story of Pitorliua lie closer to home. His politically-minded father (Roger Casamajor) seeks to hide from the police while his mother (Nora Navas) works all hours in the local factory, but when his father leaves for France Andreu is sent to live with grandmother, aunt and cousins, inkling the rather strange Nuria (Marina Comas), who lost a hand in an explosion.
The rather complex tale twists round several times as Andreu discovers disturbing facts about his father and family, and sees him finally forced to make hard decisions as to his future and who he should trust. At times there is just a bit too much going on… a sub-plot about an ill young man who Andreu takes food to tends to slow things up, and while the strand about the burgeoning sexuality of Nuria is nicely handled (and Comas is a fine young actress), it all feels rather familiar and at odds with the darker central themes of the story.
The film - based on Emili Teixidor's novel – is certainly stunningly mounted, with strong production design and cinematography. At times there are too many scenes of grim-faced woman stomping up and down stairs and moaning about their lot in life, but at its core Black Bread is an impressively dark period drama driven by a series of fine central performances.
Production companies: Massa d'Or Produccions, Televisio de Catalunya, TVE
International sales: Beta Film, www.betafilm.com
Producer: Isona Passola
Cinematography: Antonio Reistra
Editor: Raul Roman
Music: Jose Manuel Pagan
Main cast: Francesc Colomer, Marina Comas, Nora Navas, Roger Casamajor, Lluisa Castell, Merce Aranega, Marina Gatell, Elisa Crehuet