Dir: Paula van der Oest. Germany-Netherlands-South Africa. 2011. 100mins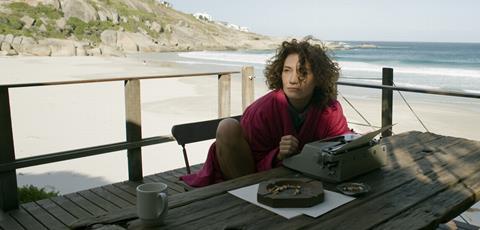 It's official: Biopics on tortured and troubled female writers have become a genre. Even though she made it for television, New Zealand-born Jane Campion directed with cinematic verve An Angel At My Table (1990), about the novelist Janet Frame (Kerry Fox), while filmmaker Christine Jeffs, another New Zealander, but one who still lives there, failed in Sylvia (2003) to do justice to the great American scribe and suicide victim Sylvia Plath (as incarnated in Gwyneth Paltrow, anyway).
It is dark, indulgently earnest, and melancholic in recreating the private life of the unintellectual, fun-loving author.
Now veteran Dutch director van der Oest joins the bandwagon with a film on the tumultuous life of the disturbed South African poet Ingrid Jonker (an excellent van Houten), who killed herself in 1965 at the age of 32. The pairing makes sense: Jonker wrote in Afrikaans, a stepchild of the Dutch language, and the Afrikaner worldview is a strand of the stringent Dutch Calvinism Jonker defied.
That Jonker was considered a bohemian (here, it translates into inconsiderate free-spiritedness and polygamous sex) in the Capetown of the apartheid era probably appealed to the director, known mostly for her Oscar-nominated Zus & Zo (2001), a comic adaptation of Chekhov's Three Sisters. A descriptive term from one of her poems, Black Butterflies (originally called Smoke And Ochre, the title of her second anthology) is no comedy: It is dark, indulgently earnest, and melancholic in recreating the private life of the unintellectual, fun-loving author.
In spite of impressive cinematography by Biccari, this dramatic misstep will attract minor interest, with the exception of the Netherlands, South Africa, and some European and North American territories with high-end arthouses, primarily on the back of van Houten, internationally recognised after her tour de force in Paul Verhoeven's Black Book five years back.
Screenwriter Latter, who has spent most of his life as an actor, decided to mostly shun the sociological conditions in South Africa in Jonker's time and concentrate on her personal travails. (The film opens with her near-drowning in the sea, where she is conveniently rescued by fellow writer Jack Cope, played by Cunningham, and the water motif, like the constant rain, rarely lets up.) After all, Latter has spent most of his life as an actor, so beefing up the parts might be second-nature to him. But, according to the press notes, van der Oest concurred.
The problem here is that Jonker did not, and does not, hold a candle to Frame or Plath (she wouldn't have cared) in terms of talent or professional recognition. Gifted, to be sure, but what would have set her apart as a model subject for a film is the unique political context in an arrogant nation with enforced apartheid and little opposition, among the white Volk anyway.
Here it is simplified: her father, the ultranationalist Abraham Jonker (Hauer), was actually the South African Minister of Censorship—convenient, because even though he bans much of her work and rejects her personally, he is drawn here less as a figure of grotesquely legalised oppression whose narrow-mindedness impacted her work than as one of several older males whose adoration in one form or other she desperately craved.
If she could so easily abandon lover after lover, mightn't she have herself excised such a horrendous dad from her short life? That Hauer plays the part like a rich cattle baron in a silent movie does not help. The man who knocked audiences out in Blade Runner is here but a two-dimensional cipher.
The exception to the decision about concentrating on the personal at the expense of the political is the recurring reference to her beautiful poem The Child Who Was Shot Dead by Soldiers in Nyanga, which she wrote after witnessing the cold-blooded murder of a young boy in a township. In 1994, Nelson Mandela read it aloud during his first address to the revamped South African Parliament, adding that Jonker was "an Afrikaner woman who transcended a particular experience and became a South African, an African, and a citizen of the world." That one sentence encapsulates the real Jonker's complexity and contradictions more accurately than anything in the film.
Production companies: IDTV Film, Cool Beans, Comet Film, Spear Films
International sales: Bavaria Film, www.bavaria-film-international.de
Producers: Frans van Gestel, Richard Claus, Michael Auret, Arry Voorsmit
Executive producer: Arnold Heslenfeld
Screenplay: Greg Latter
Cinematography: Giulio Biccari
Production designer: Darryl Hammer
Editor: Sander Vos
Music: Philip Miller
Main cast: Carice van Houten, Liam Cunningham, Graham Clarke, Nicholas Pauling, Candice D'Arcy, Rutger Hauer