After years of living in Germany, a Mongolian woman returns home to her sister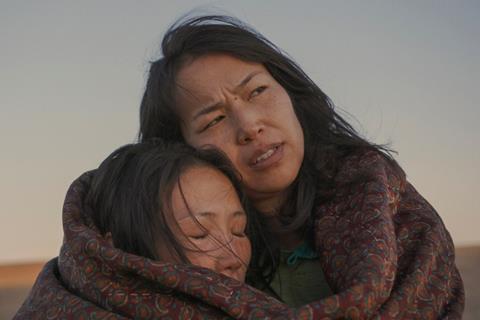 Dir/scr: Uisenma Borchu. Germany, Mongolia. 2020. 92mins
Two sisters reconnect after a separation which spans decades and continents, in this highly personal second feature from Mongolian-born, German-based writer/director/actress Uisenma Borchu. She plays Wessi, the Germany-based younger sister of Ossi (Gunsmaa Tsogzol), who remained in Mongolia and carves out a traditional nomadic existence. The journey back to her homeland offers Wessi both the opportunity to reconnect with the life she left, and, as a sexually forthright woman, to challenge her role within it.
Repeated use of jump cuts in the editing captures the jostle of tension between Wessi and her people
Both a study of the psychological torsion of growing up bi-culturally, and a knotty depiction of a relationship between sisters who are almost strangers, Black Milk is as intriguing and subtly transgressive as its central character. This is not, however, a film which delivers its message in neat, easily digestible statements: the picture is threaded with symbolism and features sequences which slip between reality and fantasy. It should generate further interest on the festival circuit, and will be released in Germany by Alpenrepublik. Graphic depictions of nomadic goat slaughter techniques might limit the film's audience to those with a strong stomach.
Borchu's approach owes more to unvarnished documentary candour than it does to the more exotic ethnographic lens which can tint depictions of nomadic lifestyles. The camera flits around a family reunion, catching the shared joys and drinking games. And despite the lack of acting experience in the non-professional cast (drawn from the nomadic community), the complicated dynamics between Wessi and the community that she left are satisfyingly mined.
The richest material is, not surprisingly, found between the two sisters. An instinctive blood bond pulls them together, but both are nursing tacit grievances. Ossi feels abandoned, and balks at her sister's insensitivity around the cultural traditions which should be part of her DNA. Wessi is determined to experience all elements of her nomadic birthright, but finds it hard to see past her own self-absorption. She gazes at her own reflection and asks Ossi for lipstick advice. Ossie stomps off to milk the livestock.
Milk – an essential element in nomadic existence – takes on a symbolic resonance. Wessi's suggestion that she should bath in milk seems to her sister to be an impossibly wanton and wasteful idea, but thrilling nonetheless. And Wessi's curse, on a man who invades the sisters' space with bad intentions, evokes the image of tainted breast milk.
As time passes, the sisters start to see each other as a mirror in which to examine themselves. Wessi, still raw from having walked out on the German lover who dismissed her plan to visit Mongolia with the statement, "You won't go anywhere. You belong to me", needles her sister about her absent husband and her unquestioning acceptance of gender roles. And Ossi, in denial about the elements which are missing from her marriage along with her boozy spouse, is fascinated by Wessi's aggressive pursuit of sexual satisfaction with Terbish (Terbish Demberel), a single man who lives in a nearby yurt.
Repeated use of jump cuts in the editing captures the jostle of tension between Wessi and her people but, like the slightly episodic structure of the story, it can feel disconcertingly abrupt at times. But, while the sisters' relationship remains a work in progress, there is a sense that a deeper understanding is building by the end of the film. And that their bond will outlive the husbands and lovers. "Men you can find everywhere," says Wessi. "And they are all the same."
Production company: Sven Zellner und Uisenma Borchu Film
International Sales: Nine Film nelleke@ninefilm.com
Producer: Sven Zellner
Editing: Uisenma Borchu, Christine Schorr
Cinematography: Sven Zellner
Production Design: Borchu Bawaa
Music: Daniel Murena
Main cast: Gunsmaa Tsogzol, Uisenma Borchu, Terbish Demberel, Franz Rogowski, Borchu Bawaa, Bud-Ochir Tegshee, Bayarsaikhan Renchinjugder