Dir: Johnnie To. Hong Kong-China. 2013. 129mins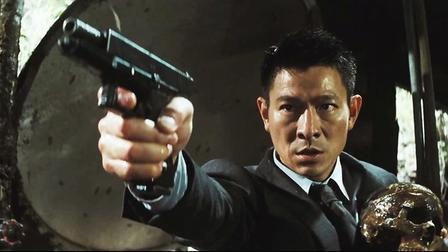 It's obvious that Johnnie To and his cast had a lot of fun making this over-long meld of the Hong Kong auteur's two main modes, investigative drama and rom-com. But although it serves up a few laughs and a couple of set-piece scenes that To completists will want to cut out and keep, Blind Detective is a decidedly minor offering from the director of The Mission and last year's impressive mainland-set Drug Wars.
Chong's blindness provides much of the film's comic momentum.
Played for laughs, in the broadest sense, the film is little more than a local-box-office-oriented procedural rom-com workout for ultra-bankable local stars Andy Lau and Sammi Cheng, who last teamed up on To's big 2004 hit Yesterday Once More. But perhaps Blind Detective – unlike the director's enjoyable and well-crafted Mad Detective of a few years back – was never meant to travel much beyond Asian markets. In the last few years,
To has set a pattern of making two or three films a year, only one of which is an obvious crossover festival pleaser. It's a mark of the increasing reverence with which the Hong Kong director is regarded in cineaste circles that Blind Detective got selected for Cannes even though it's clearly not his auteur outing for 2013.
Lau plays Chong ('Johnston' in the English subtitles), a brilliant but tetchy retired detective who despite having gone blind four years earlier continues to use his other senses and formidable deductive powers to solve crimes, thus eking out his disability pension with bounty payments. Cheng is Ho, a junior crime squad cop who is keen to learn from a man she idolises – not only as a detective, it's clear from the get-go.
The two come into contact when Chong solves an acid attack case; in order to keep him close, Ho tells her sightless love interest the story of a childhood friend, Minnie, who disappeared one day years before, and hires him to find her. It's not long before he's moved into her swanky apartment so he can give more attention to the case.
However, Chong and the audience both get distracted by the other cold cases he's still chasing for the bounty money – one being a morgue murder which provides one of the film's few genuinely hilarious sequences involving a hammer, a motorbike helmet and a TV set.
Most of the time, however, the acting is overdone and the humour grating, particularly in a cringe-worthy scene involving a flirtatious grandma. Chong is also distracted from Ho and his investigations by his love of food: this is a film so in love with the preparation and consumption of tripe, Wagyu beef, sharks' fin soup, noodles and teppanyaki that it makes one hungry just to watch it.
Chong's blindness provides much of the film's comic momentum. It's mostly predictable stuff: after Ho boasts of her athletic and combat skills, for some reason never thinks to use his hands to check her figure and face until the end.
The production values provide some comfort, especially the atmospheric lighting, Lau's smart suits and Cheng's frequent changes of outfit, and Hal Foxton Beckett's swoonily retro sixties-style soundtrack. But these are meagre consolations in a film that, despite its culinary obssessions, is more tiresome than tasty.
Production company: MilkyWay Image
International sales: Media Asia Film Distribution
Producers: Johnnie To, Wai Ka Fai
Executive producers: Peter Lam, Albert Yeung, Song Dai, Han Sanping, Li Shaohong
Screenplay: Wai Ka Fai, Yau Nai Hoi, Ryker Chan, Yu Xi
Cinematography: Cheng Siu Keung
Editor: Allen Leung
Production designer: Bruce Yu
Music: Hal Foxton Beckett
Main cast: Andy Lau, Sammi Cheng, Guo Tao, Gao Yuanyuan, Zi Yi, Lang Yueting, Lo Hoi Pang