Barbara Windsor comes face to face with a group of stormtroopers as Elstree & Borehamwood gets the Hollywood treatment.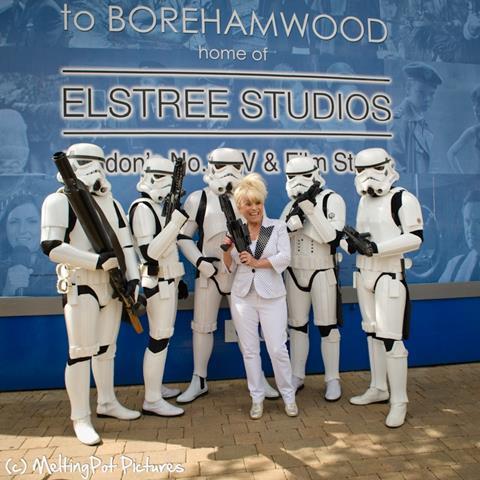 From Star Wars to A Clockwork Orange to EastEnders (spot the odd one out), the small town of Elstree & Borehamwood in Hertfordshire has a surprisingly illustrious history when it comes to film and TV shoots.
And now a group of locals have got together to celebrate the town's showbiz credentials, via a community initiative called First Impressions.
The launch took place on Sunday complete with stormtroopers and national treasure Barbara Windsor, who was a regular in town until she left EastEnders in 2009. Elstree's very own Hollywood Walk of Fame (albeit a slightly more downbeat British one) was also unveiled outside the town's train station, featuring Roger Moore, Harrison Ford…and British comedy actor Reg Varney.
Unfortunately, I couldn't make it down to the event, which as an ex runner on EastEnders (we all have to start somewhere!), was particularly disappointing – I was hoping to relive some of my finer moments (cleaning out the bins, making coffee for the Mitchell brothers) and to reconnect with Babs, who would surely remember me from the time I held her coat while she filmed a scene in the Queen Vic.
The organisers told me that Barbara was chuffed to have a plaque dedicated to her at Borehamwood station. "Many of the producers and directors who work on EastEnders arrive here each day and they will be reminded of what they are missing," she joked.
Roger Morris, head of Elstree Studios filled in a few more details: "The stormtroopers assembled at Elstree Studios where they had assembled 30 years earlier for the making of the first Star Wars film for George Lucas. They then proceeded to get on two old London Buses reminiscent of the buses used in Cliff Richards Summer Holiday films also made at Elstree Studios, before moving on to Borehamwood Station."
I may not have been there, but this photo makes up for it. Barbara Windsor + Stormtroopers = some kind of weird 1970s fantasy!