Elstree Studios celebrated 100 year anniversary of filmmaking by presenting an Alfred Hitchcock bust to the British Film Institution.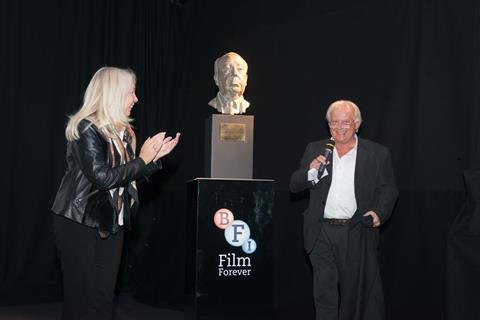 Elstree Studios, currently marking 100 years of filmmaking at the studios just outside of London, has presented a bust of famed filmmaker Alfred Hitchcock to the British Film Institute.
Last week, the BFI held a special screening of Hitchcock's first ever 'talkie' Blackmail, which was filmed at Elstree Studios in 1929.
Hitchcock made many of his early films at Elstree before moving to Hollywood in 1939.
"We had the bust especially commissioned as a gift for the BFI," said Elstree MD Roger Morris. "I hope as time progresses we will have other film anniversaries to celebrate together."
The bust was made by Lifecast, a company based at Elstree Studios, and was sculpted by Nick Dutton.
The BFI has recently restored a number of Hitchcock films, which are being screened throughout the world.